Canada's Wonderland coasts off of the highway
The amusement park worked with Astral OOH to promote its new Leviathan ride, placing massive 3D roller coasters on superboards in Toronto.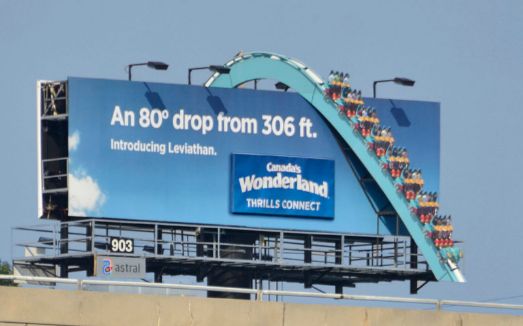 Astral OOH has placed a section of a life-sized mock roller coaster on a superboard at the intersection of two major highways in Toronto, promoting the new Canada's Wonderland Leviathan amusement ride.

The nine-week campaign targeting families and young adults, with creative and media handled by US-based agency Cramer-Krasselt, also includes traditional and digital billboards as well as radio and TV ads touting its new slogan "Thrills Connect".

Judy Boudreau, production and media creativity director, Astral OOH,  says the idea for the 3D superboard came from a sketch given to Astral by the amusement park, which then built metal bracings to support the roller coaster extension and rails that come out of the face of the board, loop over top and around the front and back of the board. The coaster measures 14 feet at its full length, she notes.

"Out-of-home is the largest media and [Leviathan] is one of the largest roller coasters in the world. So it goes together, biggest and biggest," she says of the campaign that aims to communicate the sheer size and thrill factor of the ride.

Boudreau hopes that placing the 3D rollercoaster at the intersection of the Don Valley Parkway and Gardiner Expressway will give huge exposure to Torontonians and visitors driving through to the city. The life-size placement is a first for the brand, which has done little out-of-home in the past, she adds.