Reitmans shows that beauty is easy
The retailer is rebranding with a younger, more fashion-forward look and marketing campaign that is without its long-time spokesmen giving fashion advice.
It's the end of an era. Reitmans' eccentric fashion-hungry spokesmen, Arnold and Armand, will not have a role in the brand's advertising this fall. Instead, the retailer has undergone a rebrand of its logo and is freshening things up with creative that positions itself as a store that provides beautiful clothing, rather than just sensible attire.
The characters could have been approaching the seven-year itch, but reports from the Montreal-based company, stating that the retail climate is having a negative effect on its sales and profit, is a more likely cause behind the change.
"Being a fashion brand, you have to evolve," says Taxi's CD, Brian Gill on the reasons why the agency was enlisted to renew the brand's messaging. "I think we're moving forward with what the consumer is expecting and demanding in the marketplace these days."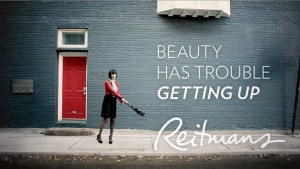 That said, Gill notes that the marketing now fits with Reitmans' new and fashion-forward products. In order to expand its reach to a younger clientele, the offerings are more contemporary, while still sensible and ranging in sizes, he says.

From the imagery in the TV spot, online and OOH ads (placed by Media Experts) to the logo and trendy clothing collection in Reitmans concept stores opening across the country, the brand is "embracing fashion" and "the takeaway of Reitmans revealing your beauty" to appeal to a broader market, says Gill.

"We're basically pointing out that the runway has no exclusivity," he says of the creative that bares taglines such as "Beauty has a day job" and "Beauty eats at her desk." "It's everywhere, and everyone can look, and should feel beautiful."

Campaign elements, which will be seen in cities from coast-to-coast, are slowly being revealed. The TV commercial (along with the new collection) will make its debut this Friday on specialty and conventional channels, as well as on the Reitmans "beauty" vertical where more information about how the brand is evolving is being housed. The brand is even interviewing bloggers and asking them to compile outfits from the retailer's fall collection that best reflect their personalities.

"Reitman's has always given advice [to consumers]," adds Gill. "But the thought is that, now we can bring in fashionistas to give us their point of view and put together looks from the collection. It just gives a fresh eye on things."