In the aisles with Longo's Robert Koss
The grocer's VP marketing on shopper marketing's evolution, and how CPG brands are starting to take notice of the smaller chain competing in a land of giants.
Toronto-based Longo's just opened the doors to its 25th location in the GTA (pictured below) in a refurbished heritage building, which was formerly a train house, working with Toronto-based agency Watt. The new location boasts 40-foot high ceilings, a fully-licensed wine bar (the second in the chain) and cooking classes.
The family-run retailer – which opened its first store in 1956 – is competing in a land of giants, says Robert Koss, VP marketing, Longo's. When compared to Canada's top three chains – Loblaw, Sobeys and Metro – which boast more than 2,500 locations between the three of them, Longo's 25th store may seem like a drop in the hat. But it's their small size that lets them create a solid in-store experience – and manufacturers are starting to take notice, Koss says.
Strategy caught up with the VP marketing – who began at Longo's in 1987 as a part-timer in the store – to learn about the evolution of shopper marketing, how being a smaller player helps them succeed and what's next for the grocer.
In the past 25 years, how have you seen the shopper marketing landscape evolve?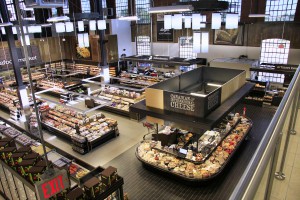 It's definitely grown. When I was in the store years ago, the vendor brought a product to you and if you thought it was going to sell, you put it on the shelf and then that's it. There wasn't any shopper marketing. Jump ahead to when I was a category manager, we started to do a bit more with the vendors, but it was still very category focused. Most recently, you're dealing with more than just the product, the price and the category; you're going into more areas of the store. Today, it's a lot more collaborative. The CPG companies aren't just working with merchandising – they're dealing with marketing.
And how is it manifesting itself in stores?
Promotions are becoming more specific to Longo's, and to specific retailers, whereas in the past it was just general to everyone – it didn't really differentiate. [This] is good for us because we want to compete for that grocery dollar, so more specific and differentiated [campaigns] are a win for us, the CPG company and ultimately the consumer. For example, we're running a promotion with Axe and Dove that ties into our loyalty program: if you have a Longo's reward card and you buy two participating products, you get a chance to win a $2,500 Longo's gift card. The tie back is directly to Longo's, it's not just a chance to win a TV or a barbeque where there's no real bounce back into the store. When a brand is available in multiple channels, you really have to stand out and differentiate. Why would someone choose to buy Axe at Longo's versus any other retailer out there in the market?
As a retailer, you've started delving into the shopper marketing realm yourself. How have you seen that evolve?
The biggest change for me is that everyone agrees [shopper marketing] is the right thing to do; however, it's not an easy thing to do. You've got to have multiple departments involved. There are a lot of things that have to happen to have a great, successful, integrated campaign, but that takes time. And that's tough in this business – specifically grocery – which is very immediate. That's a very big challenge to get all players together and really plan this out. You need a year to do a program well [and] that's just a long time for this industry.
How have you evolved your strategies to make it work?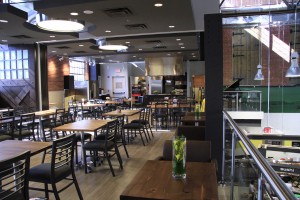 You have to be really dedicated about it, understand everyone's objectives and get a program that aligns to that. We're currently doing a program that's a bit non-traditional, because we're working with General Electric and their café series appliances. It's not something you'd normally think a grocer would be working with because we don't sell appliances. However, our products are used in appliances. So we partnered with GE and Evergreen Brickworks [a Toronto-based charitable organization dedicated to green initiatives] and we've developed a program at our Loft Cooking schools [eight Longo's locations offer full kitchens and cooking classes]. GE provides us with their appliances and we provide them an audience [through] our magazine, flyers, online and through the classes. We give Evergreen a portion of the proceeds of the classes, and local chefs run them. So if you think of all those moving parts, it's a great integrated campaign, it's different and unique, but that was a long time in the making.

How did it come together?

GE knew where they wanted to position their brand. When they started to approach retailers, [GE learned] Longo's was positioned the same way: [targeting] a foodie who appreciates food, and at the same time, understands value. They said 'Let's talk about this.' Our [thinking] was 'Great! If we can get GE to supply the appliances, then we save.' We can offer the loft classes – which they [GE and competitors] can't. You buy groceries a lot more often than you buy appliances so we can offer access to a lot more customers.

What other manufacturers have you been working with for in-store initiatives?

We've partnered with produce suppliers in California, and through it, we were able to send about 20 team members to California to see the farms, to meet the farmers, and in turn do a story in our magazine and promote the products in-store. It's a unique way beyond just selling avocados at a discounted price – they built a story behind it. Our team members are educated and in turn teach our consumers. So it's a way to differentiate ourselves in the marketplace. We have to compete in a land of giants. It's about giving consumers an experience because we're not the low-priced leader. We do provide quality, freshness and good value, but how can we do that in a more meaningful way?

How do you plan to continue driving sales in-store?

We plan to continue to grow our bricks and mortar stores. We'll continue to invest in GroceryGateway [Longo's online retail portal] and continue to meet with the CPG community to determine what's best – what's a win – for all parties.

And now with 25 locations and continued growth plans, how has that affected how CPG companies take notice of you?

More people do notice you – so you get more phone calls, which is good. We are smaller so we can be nimble, and it's important that we continue to be nimble and execute quickly. As you get bigger it gets harder, you have more stores you have to take care of.