Who's that brand?
Brands like Freedom 55, Subway and Ontario Tourism are going logo-less this fall.
To brand or not to brand, that's not usually a question. But a few campaigns this fall are leaving their mark off initial contact with consumers in hopes of standing out from the overly-branded pack.
Looking for a new audience sans-logo is London Life's Freedom 55, which is targeting a slightly younger demo of 25 to 34 with its new OOH and digital-heavy "Inspiring Freedom" campaign with creative from Bright Red and media from MediaCom. It simply asks consumers "What does your freedom look like?" and directs them to Tellusyourfreedom.ca.
The 13-week campaign went without Freedom 55′s branding because, as Alf Goodall, senior VP of marketing at London Life says, the financial company wanted consumers to visit the microsite with an open mind rather than associating it with the seemingly antiquated idea of retirement at 55.
Also going unbranded this fall is a new campaign from Subway that placed logo-less yellow treadmills on 10 university campuses across the country with brand ambassadors on site to reveal who was behind the stunt after students use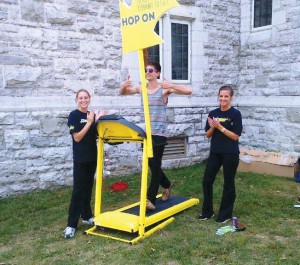 d the machines in "random acts of fitness."
Kathleen Bell, director of national marketing, Subway says the goal of the campaign, with creative from KBS+P and media by Carat, was to pique consumers' curiosity as part of the brand's Commit to Fit program, which has encouraged Canadians to log their activity on Subway's Facebook page since this spring.
The third campaign to ditch its branding this fall is Ontario Tourism's regional partners, Regional Tourism Organization Four (RT04), which rolled out a multi-platform campaign by Huxley Quayle von Bismark with ads directing consumers to sites like Ilikeoutdoorsing.ca and Ilikebeaching.ca rather than to specific locations.
"We eschewed the traditional branding because our research shows that especially with short-haul travel people are seeking experiences, not a branded known place," says Andrew Shortt, founding partner and CCO at the agency. "We wanted people to think about what they like to do and then offer them experiences that not only deliver on that, but round it out with other activities too."
Philippe Garneau, president, ECD, GWP Brand Engineering, says there are guidelines when going for unbranded ads like these.
"The first rule of using blind advertising is to make sure you aren't trying to cover up anything," he says. "Secondly, you want to make sure that once the person gets to what the ad is promoting they don't think: 'That's what this was for? I was in a totally different head space.'"

"The disadvantages could be that the audience thinks, 'What do they have to hide?' 'Are they ashamed of something?' 'Is there a reason why if it said London Life or Subway we wouldn't come to it?'" he says. "It doesn't mean the brand is going unbranded for the wrong reasons, but that is something that should be taken into consideration."