Brands of the Year: Lululemon takes local to the next level
How does a purveyor of yoga pants become one of the most successful brands to come out of this country? With a grassroots marketing approach that starts from the bottom up.
Laura Klauberg was hired by Lululemon back in April, and spent the next several months folding yoga pants and assisting customers. But she's not a new salesperson or even a store manager. Klauberg is the SVP of global brand, and she spent the early part of her post travelling from coast to coast, learning the nuances of different stores and communities.
Klauberg, an American who previously worked with Unilever in London, isn't the only Lulu employee to put in hours at the store – it's company policy that everyone does it, from IT specialists to VPs. It's just one way that Lululemon retains its "hyper-local" focus – a philosophy that dictates everything from product design to marketing, and has been the catalyst for new initiatives, from a young girls line called Ivivva, to events like this summer's SeaWheeze half-marathon in Vancouver.
The focus has clearly served the brand well, having started with a single store in Kitsilano, B.C. in 1998, to 180 today (35 new stores will have opened by the end of the year) across Canada, the U.S., Australia and New Zealand, with recently-opened showrooms in London and Hong Kong. A second showroom will launch in the Chinese city next month, with plans for a Hong Kong-specific website. CEO Christine Day has said that the company also has an eye on Europe and other Asian markets, where yoga culture is strong.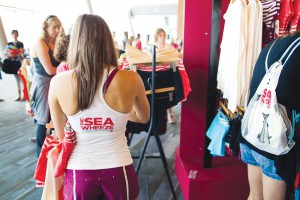 In June, Lulu was named Canada's fastest-growing brand in a list of Best Canadian Brands compiled by Interbrand, and net revenue for the second quarter of 2012 increased 33% to $282.6 million, from $212.3 million in the same quarter last year.
"We have the third highest productivity per square foot after Apple and Tiffany, which is pretty powerful considering they sell computers and diamonds and we sell yoga pants," says Klauberg.
The growth story goes beyond new store openings. Aside from running gear, accessories like headbands and underwear, and other non-yoga specific products, it has added a men's line and the aforementioned young girls store Ivivva, launched in 2009. Ivivva marks the first time that Lulu has branched out and created an entirely new brand, but keeping with the core Lulu values and messaging.
There are now 15 standalone Ivivva locations, including five new showrooms in the U.S. – the most recent being Boston – and while the company is mum on exact expansion plans, they are looking to communities with strong ties to dance.
"We saw huge demand in people that were buying Lululemon that said, 'we have young girls and it would be great if you made products for [them],'" says Klauberg.
"We're not quite ready to pull the trigger," said Day about growing the brand too quickly during a coference call about Q2 results. "We have some things we want to focus on first to grow it, but we're very pleased with how it's coming along."
As Lulu grows, so does its social media presence. The brand's main Facebook page has over 700,000 followers, and it also has pages set up for the individual stores.
"Facebook, for us, is a digital kitchen party," said Lesia Dallimore, brand experience manager, commerce, Lululemon, when strategy spoke to her in March about the brand's social media engagement. "When you walk into a Lululemon store, we don't just want to hand you some gear, we want to chat with you, find out your goals. If you want to know the best place to get a coffee down the street, we want to tell you because we're experts in our community. And those are the same conversations we're having on Facebook."
Lulu is also active on Tumblr, Foursquare, Instagram, Pinterest and was the first brand on Zite (a customizable magazine on the iPad/iPhone). It also created the "Shit Yogis Say" viral video, with two million hits and counting.
Hyper-local has meant doing nearly zero mass advertising, but that doesn't mean the brand is lacking in marketing strategy.
"The Vancouver headquarters is called the 'store support centre' within the company," says Klauberg. "Our view is that we're here to serve the stores. It's very much built locally, community to community, and that's really been the success behind the brand."
Lululemon markets hyper-locally by tapping into the interests of its individual communities and building events around them.
This past summer in Vancouver, Lululemon launched the SeaWheeze, its first half-marathon. But it was more than just a standard run, with cheer stations set up along the way, a gospel choir, drag queens, a manicure station, and a finale concert with the band Fun.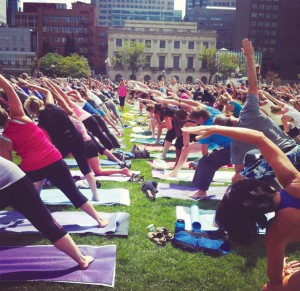 One of the key pillars of Lulu's local marketing is its ambassador program. Store employees will invite local fitness instructors (typically yoga, but could also be running or pilates) to be ambassadors for the brand, meaning they receive Lulu merchandise to wear while they teach, and in exchange will give feedback on the products and spread the word about Lulu to their students. Ambassadors are also invited to give free classes at Lulu stores – which often display large pictures of them on the walls – helping them to build their following and their business.

"When you think about word of mouth and how it works, it's always more powerful when someone close to you recommends something," says Klauberg. "It's way more powerful than a celebrity [endorsement] or an ad in a magazine. You have a personal relationship with a yoga instructor that lives in your community who is wearing our product and believes in it…When you have trust and authenticity, you believe."

And when Lulu opens a new store in a community, its strategy is to get involved prior to the store even opening.

"We have activity going on with ambassadors, with yoga events and conferences in far more markets than [where our stores are located]," said Day. "We're building our relationships in advance of going in with showrooms, so we feel very confident about our international future and creating desire in these markets."

When Lulu opened a new store in Chicago near Wrigley Field this summer, it incorporated the local love of baseball in its messaging, with the words "yoga, run, love, baseball" on the store awning. It also held a massive yoga event at Wrigley itself, filling the entire field with folks doing the downward dog.

Lulu's loyal following isn't just devoted to its merchandise, but also to the lifestyle it espouses. Themes of health, happiness and living one's best possible life permeate every facet of Lululemon, from the mantras on its bags, walls and website (such as "friends are more important than money" and "dance, sing, floss and travel") to its internal program to encourage leadership and a tool called "Visions and Goals" whereby employees set one-, five- and ten-year goals for themselves – not just work goals, but life goals as well.

"The philosophy behind that is if you're happy with where you are in your life, you're going to contribute that much more in your work life, and you're going to love what you do," says Klauberg.

"While others may try to mimic parts of our business, it is impossible to copy a personality," says Day, referring to the countless Lulu wannabe brands out there, selling yoga pants often at a lower price. "We have built the number one retail apparel business model of any publicly traded company, and we continually strive for the right balance between delivering strong growth and our market leader focus on innovation and execution."

Of course, appearing – and being – local to a particular community can be a difficult strategy to maintain through massive growth, but Klauberg says that Lulu is prepared for what lies ahead.

"Here in Vancouver [we need to] provide the support and enabling tools for stores to make it easy to do that without creating a lot of bureaucracy and all the things that come along with becoming a big company," she says. "The challenge will be, as we scale the business, retaining this hyper-local innovative approach to building Lululemon."