Taxi adds CBO remit, gains new global CCO and loses Taxi 2 ECD
Changing of the creative guard: Steve Mykolyn passes the CCO baton and takes on the new CBO role, while Lance Martin tackles a start-up.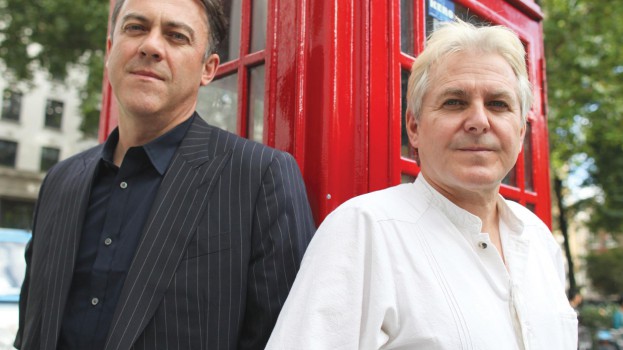 A shake-up at the top is happening at Taxi. Global CCO Steve Mykolyn is moving into a chief brand officer role, and UK import, Red Bee Media's group CD Frazer Jelleyman, is coming on board to take the creative oversight reins as of January.

Staff at Taxi and Taxi 2 learned of the shift this morning, as well as the news that Lance Martin, executive creative director, Taxi 2, is leaving next month to head up a new venture called Union, an agency born out of the operations of CP+B Canada, backed by MDC Partners. Subtej Nijjar, former president of CP+B Canada, and Dave Carey, formerly of Lowe Roche round out Union's creative leadership. Martin, a 12-year Taxi Toronto vet, spent the last six years building the creative rep of Taxi 2, and is also president of the Advertising & Design Club of Canada board of directors. Taxi executive creative director Darren Clarke will helm the creative remit during the search for a new Taxi 2 creative leader.

Taxi's success is partially attributed to the shop's attitude and approach to creative, informed by an early focus on integrating new skill sets, strategically reinforced by the appointment of Mykolyn as global CCO three years ago, whose background was digital and design. With the addition of Jelleyman, yet another non-traditional POV has been added to the mix. In addition to working at top European agencies, Jelleyman's most recent remit at Red Bee brings a blend of content, audience and tech experience that is unique. Jelleyman describes Red Bee as a huge multi-divisioned company, with interests in areas as varied as developing future media technology platforms to the actual transmitting of broadcast channels, but at its core "Red Bee is interested in connecting people with the stories that they love, in whatever form that takes."

Awarded European Agency of the Year this year, Red Bee Creative, the division Jelleyman leads creatively, is very much the model most agencies are now working towards, which he describes as a cross-disciplined group, "with writers, designers, software developers and strategists all working as project teams across the whole portfolio of our clients."

With so much at stake, strategy wanted to get a sense of what's behind the creative hand-off, and what's next for the "Doubt"-advocating agency brand. Here's what they had to say for themselves.

Taxi's current CCO/future CBO Mykolyn joined Taxi in 2001, and has seen the agency through global and national expansion during his tenure. Since he's held the lead creative role since 2009, he played a key role in the CCO-headhunt.

STEVE MYKOLYN:

Describe the scope of the CCO remit.
The first and most important role of the CCO is to ensure the work is consistent, world-class, on-brand and highly effective. The CCO wears 20 hats. He may be involved in creative problem solving for a specific brand one day and contributing to a new business pitch the next. Inspiring the team is always part of the job, as is leading an integrated creative department. Hiring great people that fit the Taxi culture and the rapidly changing times is a crucial role. Identifying opportunities for clients and the agency is a daily reality. Making sense of trends and optimizing new technologies are also part of the landscape.

Paul Lavoie and Rob Guenette chose me as CCO because of my background, which included both graphic design and a digital skill set. It was a bold move at the time to name a leader who didn't come from a traditional agency. One of the biggest and most difficult tasks was to lead the agency through the transformation in the ad business that began 10 years ago. It was critical our new CCO could also manoeuvre through an ever-evolving environment.

Why someone from outside Canada as the new you?
Paul, Rob and I interviewed candidates in Canada and around the world to hire someone who understood the Taxi culture yet could continue to elevate our standards to a global standard. We were more interested in where the new CCO can bring us than where he came from.

Beyond the obvious fun of saying "Jelleyman," why Jelleyman?
You have to admit, "Jelleyman" gave him an edge. Frazer has worked at great agencies and learned from the best in the business. He worked at BMP in London under the great John Webster and alongside Nick Gill. He understands traditional advertising and he's also responsible for awesome non-traditional work. At David & Goliath he was behind campaigns like the MI6 tagging for Red Bull. He's passionate about craft; his BBC work is a stellar example. Throw in his ability to build an award-winning agency (Red Bee) and you have the whole package.

How would you describe Jelleyman's management and creative style in three words?
Management: cultured, truthful, wise. Creative: ambitious, disruptive, stimulating.

CBO – what's that? And (beyond adland's endless quest for acronyms), why is it needed?
I have always embraced change. It's part of my DNA; I have been a journalist, photographer, filmmaker, author and designer and, for the last three years, proudly served as CCO of Taxi. For me, the moment has come for the next chapter. The CBO role is an important one for the agency as we move forward. (Yeah, we debated the title for weeks. I liked "Untitled," guess who won the debate.) Taxi has spent 20 years focused on our clients' brands; this role is grounded in making our own brand globally understood and leveraged. I will be responsible for amplifying our core "Doubt" philosophy both internally and externally, picking up where the Taxi "Doubt" book left off.

I'm also taking leadership in refining Taxi's digital and social channels.

What's your first CBO mission?
I wish I could tell you because it involves a really cool new business initiative, and "Doubt." But then I'd have to kill you.

Everyone has side projects (most seem to be books), what's yours?
I'm currently working on a cool project with a group called Cape Farewell, an international not-for-profit program created by artist David Buckland in 2001 to instigate a cultural response to climate change. Based in London and Toronto, the program brings together artists, scientists and communicators to use their creativity to stimulate the production of art founded in scientific research. The group includes Martin Amis, Patrick Watson, Mel Chin and a host of others.

I'm trying to save the world in my spare time.

Career-wise to date, what are the things you are most proud of?
It's kind of a toss-up between the launching of Koodo, the 15 Below Project, the Viagra "Confessions" campaign (2009) and a film I made about Mexico's "Day of the Dead" in 1997. Say, isn't today Nov. 1?

Then again, I would be remiss if I didn't include a concert review I wrote in 1977. Iggy Pop was on a comeback tour performing at the Seneca College Field House. David Bowie, a real superstar back then, surprised everyone by appearing in a supporting role on stage, simply playing keyboards.

The headline for the story is something you don't see everyday: "Bowie Fingers Iggy's Organ." Hard to beat that.

 Frazer Jelleyman is the incoming Taxi CCO/outgoing group creative director at the U.K.'s Red Bee Creative, where he oversaw work for brands you may have heard of, like the BBC.

FRAZER JELLEYMAN:

Your CD days spanned BMP DDB (1990-1999), TBWA (1999-2009), and ECD at David & Goliath (2009) prior to Red Bee. What was the career highlight?
After 22 years my mother finally understanding what I do for living.

What have you worked on that's relevant to some of the Taxi client challenges/opportunities?
Working with a client like the BBC is a steep learning curve. It taught me to look at things in a different way to how I did while at more traditional agencies.

First, treat people as an audience not consumers. When I hear the word consumer I get the mental image of a nest full of baby starlings, beaks open, ready to gobble down whatever's fed to them. People aren't like that.

Audiences are different. They choose to take part. They actively seek out things they are interested in. They become fans. If you start from what people are interested in rather than your own agenda, then the stories you tell will acquire gravity. You'll create social objects around which people choose to gather.

The short of it is, you have to build a brand with people. If you can build a brand which becomes part of culture, and not just a product on a shelf or a service you buy, then things get really interesting.

Why Canada, why Taxi?
That's an easy one. It's a great company. And who doesn't want to be part of greatness? Most companies only make it as far as good. And good is like okay. Or nice. Good is when your mum likes your haircut. It's not a bad thing, but it's not really what you want.

Taxi has a heritage of great. Great work for two decades, both for their clients, and within the wider culture.

Why Canada? That's where Taxi is.

What's likely going to be the hardest bit of the transition – lingo/culture acclimatization?
Despite the fact that Europe still tries to project the image of a single market, it's actually a disparate, rich and at times volatile mix of cultures.

I've been lucky enough to work in both a European and global capacity in my time, I've worked alongside people from Norfolk to South Korea and pretty much all parts in between.

Quebec is going to be interesting, my French is un peu rouillé, but I think the work Dominique [Trudeau] and his team are doing transcends language.

Every region and culture has its own nuances (God know as a Brit, we've got plenty of those), but I think at a basic level we all pretty much share the same needs, drives and emotions. We just find different ways to express them.

Though I do think driving on the wrong side of the road will throw me for a bit.

Describe your management style.
I remember seeing a brilliant documentary about Lord Aspinall, who ran a Mayfair gambling club in the '60s called the Claremont. He said he wanted the club to be "an atmosphere in which strange plants could grow."

That thought has always stuck with me – to foster an atmosphere in which brilliant people flourish.

I think the smartest companies are ones where there's a collective and instinctive mindset. Every single person understands the plan, and uses that as a measure against every decision. It's all about setting the context of what we do.

Secondly, if we are going to move things on, change things, make stuff better, then we can have no fear of failure. A lot of companies that are leading the charge are building failure into their timelines. Failing just means you can start again, wiser than before. It's a learning process. To lose that fear of failing, everyone needs to know that they're supported.

And I think it's important to remember that we are the monkeys that came down from the trees. We are the curious ones. And we are the ones that stood on our back legs, upright, so that we could see further. Keeping that curiosity alive is what keeps us moving forward.

What's your first CCO mission?
The first thing I want to do is nothing. I'm going to sit down with as many people as I can and just listen. When I've done that, and only when I've done that, am I likely to have anything interesting to say.