AOY & DAOY Gold: DDB & Tribal's golden game plan
Read how DDB & Tribal won both creative and Digital Agency of the Year prizes.
Luck has nothing to do with it as DDB celebrates its seventh AOY Gold win (on top of five Silvers and four Bronzes) with its digital agency Tribal DDB nabbing its first DAOY Gold.
In fact, DDB is the most awarded AOY agency…ever. Since its first appearance on the list in 1996, there's seldom been a year that it hasn't made the top three.
The agency behind Subaru's now-famous Sexy Sumos and the Knorr animated salt shaker, was at it again with digital work for McDonald's that picked up a global response, a Canadian Tourism Commission campaign that propelled Canada to the most powerful country brand in the world and the first social media-powered Christmas tree.
"We do things our way and don't ask for permission," says David Leonard, president and COO, DDB.
Of course, its strong strategic insight, digital, social media and other teams busy at the agency's Toronto, Vancouver, Edmonton and now Montreal offices probably have something to do with it as well. But it's been a long time coming to get its truly national footprint.
When then-Palmer Jarvis, the Vancouver shop founded by Frank Palmer, and DDB Toronto merged, the agency solidified as a cross-Canada shop, and in a unique twist on independent agencies swallowed up by multinationals, Leonard says, "It was more like Palmer Jarvis took over DDB than DDB took over Palmer Jarvis. The entrepreneurial, street-smart, street-fighter [attitude] has carried through. That's why we stayed strong."
But it wasn't until this past July when it announced its partnership with Montreal-based indie shop Bleublancrouge that it could truly represent all of Canada, Leonard says. "Without a presence in Quebec you're in a deficit when a government, crown corporation or ministry might look at you, certainly when a Quebec-based business [needs creative]."
The agency had been working towards a Quebec office for the past five years, but Leonard says they made it a top priority in 2012. BBR and DDB had worked together in the past and he says it was time to commit. Since then, they've worked together on the aforementioned McDonald's campaign, as well as some work for AutoTrader and Johnson & Johnson, and expect to see new business next year. "We're in the thick of it now," he says.
This new office caps off an almost-yearly ritual of launches, including its shopper marketing arm Shopper DDB in 2011, its recruitment team in 2010, and social media-focused Radar in 2007.
"We try and see what's coming and create offerings that are smart for clients," Leonard says. "And sometimes it doesn't work. We created Ecology [in 2008] around green marketing. Of course, the recession hit and no one cares about the environment when you're trying to put food on the table. It made sense [but] was the wrong idea for the time."
When asked how they make all these divisions work together cohesively, DDB chair Palmer says it comes down to leadership.  "We follow those who lead, not because we have to, but because we want to," says Palmer. "If a leader has a clear focus and knows where we want to go, then people trust them. [An integrated structure] just makes common sense. We're a company that's not afraid to try things that are new and different."
Going forward, Leonard says to meet client demands they'll push deeper into data, shopper marketing (including work with new clients Johnson & Johnson and Strategic Milk Alliance), and of course on its digital arm, Tribal DDB.
"Digital is really the growth engine," he says. "Today it's probably 35% of our company. Mobile is probably the top of the list, and e-commerce is another practice we're going to have to get into."
And with digital comes the inevitable big data kick as more clients realize the potential. DDB plans to further bolster its analytics offering – something that all but disappeared when the agency lost the Dell account in the computer giant's global restructuring in 2008.
"You need to have a number of doorways through which clients can walk, the gateways can provide a more holistic solution," he says. "If you come in through Tribal, that's fine, but we've got a whole suite of services to round that out. Creative is the number one priority for everyone in the company."
Check out DDB & Tribal's winning cases below.
Big Sisters act fast
DDB was tasked with the challenge of raising awareness and increasing volunteer recruitment for non-profit Big Sisters in Vancouver by eliminating the misconception that donating time with the organization requires a significant commitment – the top reason why most women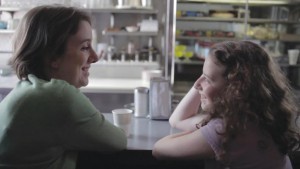 choose not to sign up.
To demonstrate how little time it takes to make a profound impact on a young girl's life, DDB created a campaign comprised of the shortest messages possible in any given media: seven-second TV ads, five-second radio ads, tweets and small-space print ads.
Radio and TV ads were just long enough to feature a Big Sister giving a young girl advice, reinforcing the fact that being a Big Sister may take less time than you think. Print ads featured two side-by-side illustrations of a young girl and her Big Sister engaged in an activity. The first is an intricate drawing that appears to have taken a great amount of time to do, while the other is a simple stick figure sketch.
Big Sisters' website saw a 64% increase in traffic to the volunteer page set up for the campaign, resulting in the site's highest number of visitors since its inception, while a tweet-a-thon supporting the campaign reached an audience of more than 130,000 people. Big Sisters also saw a spike in volunteer applications during the month of May and the highest number of volunteer inquiries since last September.
Cialis gets distracting
Cialis, a pharmaceutical drug from Eli Lilly that helps men who suffer from erectile dysfunction (ED), had two challenges: first, ED is a very personal matter and the cultural stigmas associated with the condition make it difficult for men to consult their doctor for treatment. Second, Cialis is regulated by Health Canada and is restricted to advertising only its name, price and quantity. Brand advertising cannot highlight any product benefits or explain what Cialis is or does.
Given strong brand awareness, the drug manufacturer wanted to change its strategy from targeting patients who may be looking to switch to Cialis, to undiagnosed ED sufferers. DDB believed the creative should appeal to the partner as well, even though she is not the primary audience, to reinforce Cialis' position as the ED drug that helps couples with romance.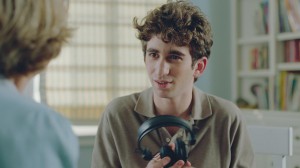 The new campaign launched with two TV commercials ("Basement" and "Present") that depict parents devising crafty ways to distract their kids for a few hours so they will have the chance to be intimate. One of the executions featured a woman as the main character.
DDB also created a radio spot and print ad featuring a fictional camp called "Camp Keapembusy" that's owned and operated by Cialis. The camp promised so many activities that kids would never want to come home.
Both TV spots achieved strong results and were 8.6% above norm in terms of breakthrough while being linked to the Cialis brand, and also resulted in a 15.5% increase in overall appeal from previous Cialis campaigns.
AutoTrader has the most cars in one place
With the shift from print to digital publishing, AutoTrader's magazine format became outdated, and thanks to Craigslist and Kijiji, Canadians suddenly had thousands of vehicle listings at their fingertips, without having to trudge to the corner store.
The challenge for DDB was to reposition AutoTrader from a print to digital publication, and make AutoTrader.ca a compelling destination for both dealers and consumers. AutoTrader.ca has the largest used car inventory in the country, and DDB needed to attract a broader demographic and more high-calibre eyes to the newly revamped website.
To drive potential buyers to the site, DDB launched a campaign driven by its core differentiator, "The Most Cars in One Place." Two TV spots depict a humorous world where, no matter what the reason for selling or buying a vehicle, AutoTrader.ca is the must-visit destination.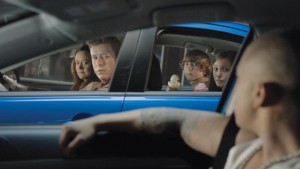 Online display media highlighted AutoTrader.ca's singular focus on vehicles versus the garage sale offering of Kijiji. A unique Facebook app dubbed "The AutoLyzer" was created to help Canadians discover car options to suit their individual needs, based on their own unique Facebook profiles. Monthly unique visitors to the site have rapidly increased since the campaign launch, while the AutoLyzer app and PR program have created a groundswell of interest in the brand, resulting in more than 265 million impressions.
BC Hydro shows power is precious
DDB was faced with an unusual challenge: BC Hydro wanted to get British Columbians to use less electricity. The agency needed a way to attach value to electricity – regardless of its infinite availability. And since electricity in B.C. is so affordable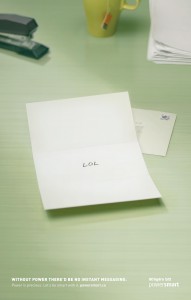 , DDB had to focus on lifestyle value.
The strategy was to remind British Columbians what electricity allows them to do and recognize how valuable electricity is when we're forced to go without during an outage.
DDB used pre-roll, online video channels like YouTube, as well as cinema to bring the "Power is Precious" campaign to life. Three 30-second videos illustrate how different life would be without electricity to power cell phones, TVs, computers and even the internet. Transit shelter posters, radio and newspaper ads also supported the message.
To remind people to only use the lights they need, DDB created a customized motion sensor display. "Let's be Smart with our Power" was written across six storefront windows, and the light behind each word only turned on when someone walked in front of them.
A living billboard was fully covered with lightbulbs, and over time, the incandescent bulbs would "burn out" leaving just the LED bulbs to communicate "LED Bulbs Last Longer." All communications drove to Powersmart.ca, which featured video, deals, and even an interactive game called "5 p.m. Sprint," which educated workplace-specific customers on how they can save energy in the office.
DDB's LED living billboard and online video titled "Internet" were both shortlisted at Cannes, while the website received 40% more traffic (3.4 million page views) than the same period the year prior.
CTC keeps exploring
Canada as a travel destination was losing market share to a competitive international tourism industry where more exotic locations are investing in more marketing than ever. The Canadian Tourism Commission wanted to reclaim and capture Canada's fair share of international tourism growth.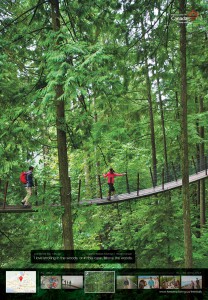 The agency focused on the insight that's always at the heart of the brand, "Canada. Keep Exploring." The plan was to develop a new global creative platform to provide more context to Canadian experiences, giving travellers a better understanding of what exploring in Canada could look like.
The approach took people on a journey of exploration through the eyes of trusted fellow travellers. DDB created and documented a number of complete trip itineraries from different regions across Canada with each photo geo-tagged and time-coded.
Broadcast spots highlighted a real trip, and print ads showcased the multiple experiences of a full trip. All campaign elements direct the viewer to the website Keepexploring.ca, where they can scroll through and see exactly where each photo was taken, what day and time, and explore rich information about the experiences of the journey. A Facebook contest challenged players to match campaign photos with Canadian locations for the chance to win a dream vacation.
The "Keep Exploring" global platform has propelled Canada to the most powerful country brand in the world two years in a row as rated by the Country Brand Index by FutureBrand. In March, CTC's key overseas markets registered a 20% growth in overnight arrivals versus a year ago according to the latest Global Tourism Watch report.
Canadian Tire shows holiday spirit
Although Canadian Tire had traditionally enjoyed top market share over the Christmas holiday period, its dominance in the outdoor lighting and seasonal décor categories had been on the decline thanks to fierce competition.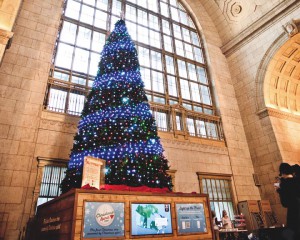 Canadian Tire's goal was to reclaim Christmas and re-energize the spirit of Canadians. To help light up the holiday season and spread Christmas cheer across the nation, Canadian Tire and Tribal DDB Toronto launched a first-of-its-kind, 30-ft. tall "Christmas Spirit Tree," equipped with 3,000 individually programmed LED lights, in Toronto's Union Station.
Using Sysomos, a social media monitoring software, the agency scoured Canadian blogs, forums, social networks and news sites for posts and messages containing a variety of Christmas keywords. Then Tribal DDB transformed these messages into data that was used to boost the colour and intensity of lights on the tree.
The tree was streamed live online at ChristmasSpiritTree.ca and on digital billboards. Spirit Tree leveraged Rogers' LTE just weeks after it came to market and used it to power the high bandwidth live stream, providing near real-time response to users interacting with the tree. OOH decals and signage was placed throughout Union Station to generate further awareness for the 125,000 people who pass through on a daily basis.
Canadian Tire's overall social presence increased during this time, with more than 660 blog mentions, 780 news mentions, 2,600 tweets and 2,200 forum posts about the brand. And it successfully defended its number one market share for the 2011 Christmas season.
McDonald's answers your questions
While McDonald's has long been confident about the quality of its food, practices and procedures, consumers were not as convinced. Social media listening indicated that highly-crafted food quality advertising was fuelling some of the negative perception. So instead of going after McDonald's lovers, Tribal DDB targeted those who actively question the quality and nutritional value of McDonald's.
The agency came up with a campaign that provided "consumers with questions" unfettered and unfiltered access to the company. The site (Yourquestions.mcdonalds.ca) allowed Canadians to ask any food-related question they wanted. No question was too tough or too raw for McDonald's to answer. A response team was created, comprised of 10 full-time staff tasked with vetting and answering the questions as efficiently as possible. In many cases, detailed research was needed, requiring input from all levels of the McDonald's organization, from suppliers to front-line crew, right up the president and CEO.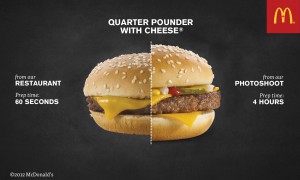 Tribal DDB socialized content through "follow" and "share" functionalities – and notified each consumer when their question was answered. It also used just-in-time video and image answers to increase impact and shareability. Despite a low-budget approach to the videos, "Behind the scenes at a McDonald's photo shoot" achieved nearly seven million YouTube views and "What is in the sauce that is in the Big Mac?" achieved more than two million hits.

McDonald's has received more than 7,000 questions so far, exceeding the campaign target by over 250%. The site generated more than two million Canadian interactions with an average engagement time of five minutes. And its branded YouTube channel garnered more than 10 million views.