Global Tour: Influencing action through experience
Infield Marketing's Martin Rydlo and Derek Joynt round up some cool global shopper marketing executions.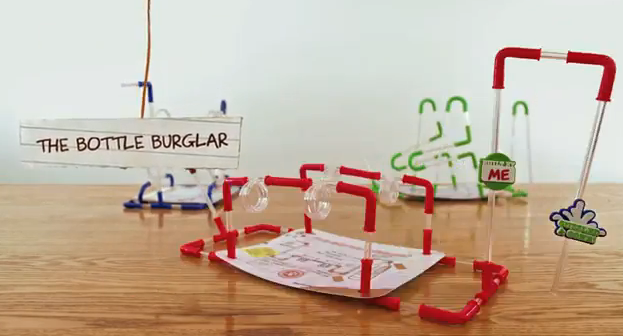 By Martin Rydlo and Derek Joynt
Strategy invited new Infield Marketing partners Martin Rydlo and Derek Joynt to scour the globe for the coolest shopper marketing executions, retail stunts, innovative partnerships and bigger trends in the retail and shopper marketing industry. This month, they came up with three daring executions, including a big giveaway, a milky-DIY kit and a techified retailer experience for the 40+ crowd.
In Mexico, Campbell's decided to use its soup dispensers to grab shopper's attention with a bold promotional message: "Release the Soup" and win 1,000,000 pesos (almost $77,000 Canadian). It replaced flavour description cards with large letters that created a billboard out of the eight-foot-long shelf unit to celebrate the promotion. While not a long term strategy given the reduced ability to find flavours and inability to constantly give out a million pesos, as a one-time promotional announcement, it certainly made people stop and stare
Surprise, surprise: Marks and Spencer arrived at the insight that its 40+ shopper is just as digital-savvy as any other shopper. To address this, the leading UK retailer has outfitted all of its stores with Wi-Fi, giving shoppers fast and consistent access to the internet from any mobile device they may have, from any location within the store, including the cafes. It enhanced the shopping experience by prominently featuring QR codes in key departments, allowing shoppers to quickly access relevant online content. In the clothing department for example, shoppers can watch videos to see the clothes in motion (and possibly be inspired to check out complimentary clothing), while in cookware people can access ratings, reviews and recipe ideas.
To augment this self-serve mobile experience, Marks and Spencer's new flagship store in Cheshire Oaks also features 12 "browse and order" screens and 10 staff members who support high-consideration categories, such as cookware or beauty products, with iPads, providing the highest level of assistance "with the touch of their finger." It seems to make good business sense too. Marks & Spencer claims consumers who shop on both its website and stores spend four times as much, while those who also use smartphones spend eight times as much.
Cravendale Farms, a UK Milk producer famous for its campaign "Tastes so good the cows want it back," has found another way of promising shoppers a better milk experience. It created three types of Epic Straw "kits," like "The Bottle Burglar," "The Cereal Snaffler" and "The Secret Slurper." These Epic Straws "construction kits" are promoted on shelf and then ordered online with the entry of special codes printed on Cravendale containers. And what's more, they can actually be used to drink the milk. It's a great way to turn the routine of drinking milk into a fun filled experience for kids.
Martin Rydlo, former director of marketing at Campbell's handling its shopper marketing portfolio, and Derek Joynt, former director of marketing at Walmart, are partners at Infield Marketing Group in Toronto, where they focus on for building better promotional and shopper marketing experiences grounded in relevant shopper insights.