Marketers of the Year: Sandra Sanderson keeps Shoppers fabulous
The SVP marketing celebrates the pharma-retailer's half-century birthday with a streamlined approach.
Sandra Sanderson likes complex things. Early in her career – before she joined Shoppers Drug Mart as SVP marketing – Kraft made her its youngest director, and her boss challenged her with a beefed up portfolio of more than 10 categories. It was the biggest portfolio in the company at the time.
"And it made me better," she says. "I think it made me very comfortable dealing with complexity. I love integrating all the various pieces to deliver an experience that really resonates."
Her ability to mesh marketing efforts seamlessly propelled Sanderson to one of this year's Marketers of the Year, as she fights to keep Shoppers in the top pharma-retailer spot. (It's the largest in Canada, with 1,300 stores and more than 90% of Canadians living in close proximity to a location, and the third largest retailer in terms of revenue, behind Walmart and Costco.) This year, she rebranded its Optimum program, made significant digital headway, and hosted a giant birthday bash for the chain's 50th anniversary.
And while 2012 was a banner year, Sanderson is gearing up for increased competition from Target and a renewed vigour and expansion plan from the Katz Group of Companies, which operates Shoppers' main competitor, Rexall. Shoppers has slowed its year-over-year expansion, which in the past had seen up to 100 new stores a year, down to an average of 15, says Tammy Smitham, VP communications and corporate affairs (resulting in 80 HQ layoffs – mostly in the real estate division). Neither Sanderson's team of 65 nor her budget were affected by the cuts, but she acknowledges the market will be tougher.
Sanderson says Shoppers won't change its strategies in 2013 because the foundation to compete is solid. This well-oiled infrastructure was apparent in the chain's largest integrated campaign ever, celebrating its 50th year. Everything from online and on-air, to in-store decor and anniversary-themed packaging (specially produced by select CPG manufacturers), put Shoppers' "Fabulous 50″ front and centre. Sanderson attributes the cohesiveness and impact to a streamlined approach – a cross-department steering committee of 30 people from different backgrounds (including merchandising, legal and PR) was established a year before the promotion to maintain consistency across all consumer touchpoints.
The campaign ran in two phases. The first, launched in August, was a digital hub by Toronto-based Trapeze, inviting consumers to share their memories of the retailer. The second phase in September included the company's largest media buy ever by Aegis, with creative centred around a red gift box and messaging focused on the three Shoppers pillars: health, beauty and convenience. "We didn't want this to just be a sale, we wanted to really go back to our brand, which is taking care of the whole you," Sanderson says.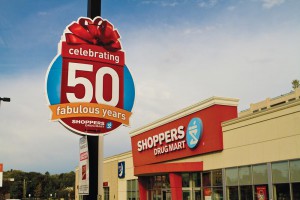 The push coincided with the Toronto International Film Festival, and Shoppers tied its red gift box theme with red carpet opportunities via a partnership with Shaw Media's ET Canada for on-air shout-outs. Consumers had a chance to win one of 50 grand prizes, such as trips and cars, each time they made a purchase. In store, aisles were decked out in celebratory decorations, a hugely popular move among its employees. "I heard anecdotally that stores didn't want to take down their POP," says Smitham.

"I knew that was going to happen," Sanderson says. "Next year, we're going to be 51, but the stores will still say 50."
The campaign exceeded expectations with more than 900,000 contest entrants, 71,000 new Facebook fans, more than 253 million impressions overall and a market share boost of 40 points.

The organizational groundwork was laid in 2010 when Sanderson began planning for Optimum's 10th anniversary campaign, which until this year held the title of largest promotion ever undertaken by the brand. "I remember, we were sitting in Deon [Alhadeff, director of marketing, Optimum]'s office and we took every [campaign] out and it looked like 20 different projects. Which it was," she says. "And it wasn't consistent, so we weren't getting the full impact."

A steering committee mapped out the entire campaign and focused on the different Optimum personalities that existed (such as hoarders or closeted members). This year, the team unveiled a new identity for the rewards program, "Free feels good." The colourful campaign plays up the emotional connection, shifting communication away from the more rational message around the card's rewards.

The promotion increased new member sign-up by 20%, which is significant considering 64% of Canadians are already members and 84% are aware of the program. Going forward, Sanderson points to opportunities in the youth demo and increasing membership among men embarrassed to pull out their loyalty card, which may be addressed as Optimum moves to smartphones.

Shoppers also ventured into e-commerce, using its luxury boutique Murale to test the waters. Sanderson says it's been a great success as they're finding new ways of reaching audiences giving the boutique (which only has six brick-and-mortar locations) a national reach. Further, it's a good testing ground for different promotional efforts, such as timed promotions and user targeting – learnings they'll eventually take to a Shoppers Drug Mart e-commerce site, if and when that is ready to launch.

Sanderson says they're also examining shopper marketing campaigns that help build the basket, building more personalization into the Optimum program and finding ways of localizing marketing efforts.
"We believe our strategies are right," she says. "We have a very strong brand and an engaged customer. The foundation is there."