Sober Ride has holiday drinkers seeing double
The designated driver service has launched a cheeky in-bar campaign, featuring a poster of a realistic looking urinal, to deter drinkers from driving home drunk.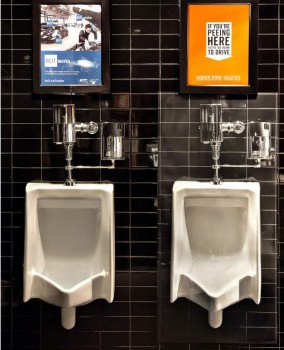 Sober Ride, a Vancouver-based designated driver service, has launched a new campaign that aims to deter holiday revelers from getting behind the wheel drunk.

Targeting men aged 18 to 24, the campaign features a poster of a realistic-looking urinal in the men's room of the Cinema Public House in Vancouver, with a sign that says "If you're peeing here, you're too drunk to drive," and a call to action to use Sober Ride.

Creative is by Taxi Vancouver, with media done in-house by the restaurant's owner the Donnelly Group. Kevin Barclay, executive creative director, Taxi Vancouver, says that the location of the ad, as well as the cheeky approach, will hopefully spark more conversation around the topic of drunk driving.

"It would have been easy to put up a poster and a straight message, but when you embrace the context of the target's environment, those ideas are the most powerful," he says.

The current installation is part of a test run for the campaign, but Barclay is hopeful that it will lead to more. It will be in the Cinema Public House throughout the holiday season.