Capital One hits the button
The credit card co is bringing back the Million Dollar Button contest, promoted with a heavy social media push and on-site activations.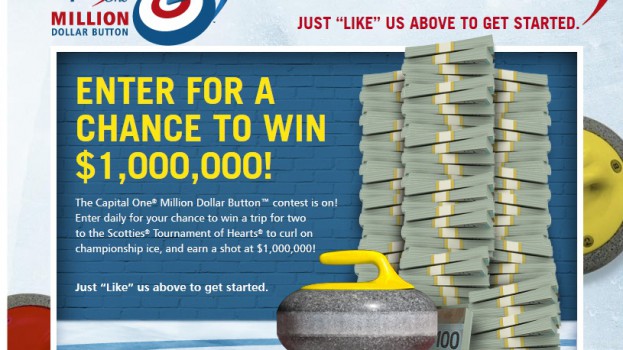 Capital One is giving curling fans a chance to get in the game and will give one fan an opportunity to win $1 million through its Million Dollar Button contest.
The contest leverages a long-term partnership with the Canadian Curling Association (through which Capital One is the title sponsor of the Capital One Cup and the Capital One Grand Slam of Curling) and gives four fans an all-expenses paid trip to the Scotties Tournament of Hearts, taking place in Kingston On., Feb. 16 to 24, where they will compete to see who can place a stone nearest to the button.
The winner will go on to throw for the $1 million rock during the Brier Cup, airing live from Edmonton on TSN  March 2 to March 10.
Though the Million Dollar Button has been going since 2008, says Clinton Braganza, VP brand marketing, Capital One, that it has added new features to the contest this year, including the chance to earn additional entries by inviting friends to participate in the contest, and a cheering section, letting the contest winner bring three friends to the Brier Cup.
The campaign to promote the contest, with creative by Taxi and Direct Branding Force, and media by MediaVest, features online ads across TSN's digital properties, as well as a heavy social media presence and on-site activations at the upcoming Continental Cup taking place in Pentincton, B.C. from Jan 10 to 13.
Braganza says curling was a good match for Capital One's media strategy because it comes with a loyal built-in fanbase. He adds that its partnership with curling, established in 2008, allows the company to reach consumers nationally through broadcasts on TSN, as well as locally through on-site activations at curling tournaments that are played in communities across the country.
Curling is proving to be an attractive investment for media cos as well . In August, 2012, Rogers-owned Sportsnet bought the Grand Slam of Curling and established an events division to run the tournament. The purchase was accompanied by a sub-licensing deal to have events broadcast on the CBC, and at the time Scott Moore, president of broadcasting, Rogers Media, said that there were plans to grow the number of dates as well as the places they'll be broadcast.