Tourisme Quebec shows off its originality
The tourism board is using an out-of-home and digital campaign in Toronto to promote its new brand image.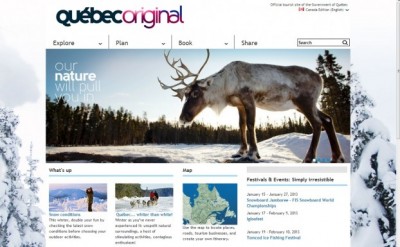 Tourisme Québec has launched a campaign to promote its new brand image, "Québec Original," and attract visitors to the province.

The tourism board's campaign is targeting adults aged 30 to 45 who live in the GTA and earn more than $75,000 annually. With creative and media by Cossette, it features a strong digital presence, including an informational microsite and ads placed across digital news portals including the Toronto Star, the Ottawa Citizen, the National Post, Toronto Life, and the Globe and Mail.

The digital buy is supported by OOH ads on 310 faces in the GTA, including static billboards and 15-second clips on indoor digital boards.

Julien Cormier, director of promotions, Tourisme Québec, says that the campaign differs for the board because it targets a younger demographic than previous initiatives, which were aimed at 35- to 65-year-olds.

He adds that it also focuses less on promoting winter activities and more on selling the new "Québec Original" brand image through three characteristics of the province, including its creativity (events and festivals), the spirit of its people and its natural beauty.

The media strategy, he says, was an effective means for the board to maximize its reach in an inexpensive way.

The campaign will be in market until mid-February.