CASSIES Bronze: Boston Pizza introduces finger cooking
The restaurant chain targets men with a fool-proof cooking program.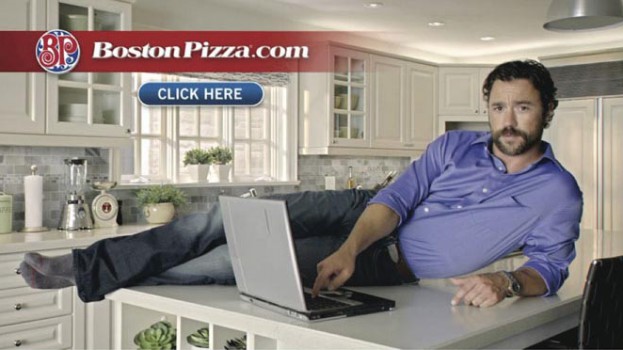 BRONZE: Services General • Best Launch
Situation Analysis As Canada's number one casual dining chain, Boston Pizza wanted to be a leader in take-out and delivery (TOD). But it had no interest in being another player in a sea of promotions and endless discount offers. It needed a point of difference and decided on its 100-item menu – a big advantage over the Pizza Pizzas and Domino's of this world. But would that be enough to take them to number one?
Strategy & Insight We tend to think of dinner as mom's domain, but given the pressures on families nowadays there are nights when dad is in charge of the cooking. This led to a convention-breaking decision to focus on dads. But what kind of cooking would dads embrace? One that only required the ability to use a finger and a computer. "Finger Cooking" was born.
Execution In September 2010, dads were introduced to a special kind of cooking show – "Finger Cooking with Bill." Bill doesn't believe in pots and pans. So (via TV, digital, OOH, direct mail and POS) he shows dads how to finger cook using Boston Pizza's online TOD service. In January 2012, the campaign evolved with the launch of The Joy of Finger Cooking – a cookbook that allows dads to avoid cooking altogether. The launch entailed a two million-copy direct mail drop of the cookbook, supported by TV, POS, PR, rich banners, pre-roll, a Facebook tab, and an improved website.
Results At the end of the first year, online TOD sales were up 21%. This continued in year two, with TOD same store sales up 19%. Also, TOD growth did not cannibalize in-store sales.
Cause & Effect Boston Pizza's online ordering service had been around since May 2009, but had not delivered dramatic results until the "Finger Cooking" campaign. There were also no other significant variables to explain the success.
Credits:
Client: Boston Pizza International
EVP, marketing: Steve Silverstone
VP, marketing: Alex Green
Marketing manager: Andrew Borsk
Agency: Taxi Canada
ECD: Darren Clarke
ACDs: Niall Kelly, Dave Luxton
Writers: Irfan Khan, Darren Clarke, Niall Kelly
Designers: Brooke Hennessy, Niall Kelly
Group account director: Edith Rosa
Account director: Anna Halfpenny
Account manager: Tamara Gervais
Digital strategist: Adam Brain
Integrated producer: Brie Gowan
Print producer: Jen Shapiro
Illustrators: Esther Sanchez, Brooke Hennessy
Media agency: PHD
PR agency: High Road Communications