CASSIES Silver: Home Depot goes local to win Quebec
The home renovation retailer created unscripted moments to take second spot in the province.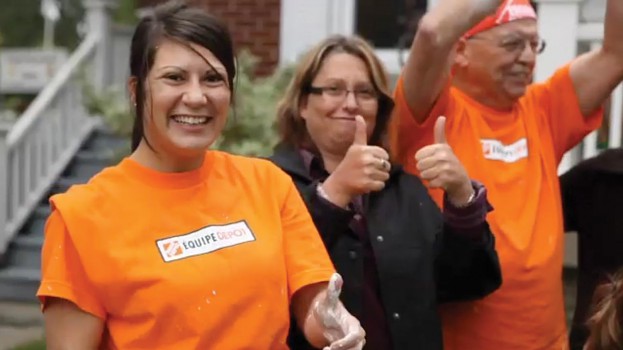 SILVER: Retail • BRONZE: Best Integrated Program
Situation Analysis It is never easy for large American banners to succeed in Quebec – and 12 years after its arrival, Home Depot was still third in market share, behind homegrown Rona and Réno-Dépôt. With ambitions to take over as number two, Home Depot needed to appeal to Quebecers.
Strategy & Insight Given that Quebecers favour Francophone businesses, Home Depot could not rely on the reputation it had built in the rest of Canada. It needed to find a point of difference and appeal to Quebecers as Quebecers.
Market research found that the number one motivator for consumers was greater product selection – and this had great potential because Home Depot offered different brands and products than Rona and Réno-Dépôt. The decision was made to use real Quebecers in a multi-channel campaign captured by the slogan "Rénover sa vie, c'est beau" ("Renovating your life is beautiful").
Execution The campaign started in March 2011, and was built around ten highly desirable products that were exclusive to Home Depot. Every message featuring a real Quebecer was spontaneous and unscripted, with 120 videos made. They were emailed to participants with a suggestion to share them through their social networks. Each video also had an extended version at Homedepot.ca, and nine were aired as 30-second spots on television. Meanwhile, 30-second radio spots had consumers sharing ideas – and consumers who had their story chosen were given a gift card and an MP3 version of the message, allowing them to be a star in their social network.
Results Home Depot surpassed Réno-Dépôt to become second in Quebec market share. Compared to 2010, brand consideration rose 23%, in-store traffic increased 43% and sales increased 23%. Also, videos given to participants and shared through social networks generated 10,000 hits on Facebook.
Cause & Effect All these results were achieved while maintaining the same number of stores, product lines, services, as well as a similar pricing strategy, media mix and budget. Meanwhile, Réno-Dépôt added two stores in Quebec and Rona opened three.
Credits:
Client: The Home Depot
VP marketing and e-commerce: Peg Hunter
Director of advertising: Gaye Mandel
Director of marketing: Jason Reilly
Regional marketing director: Élise Vaillancourt
Senior manager of advertising integration: Sonia Draper
Production supervisor: Sarah Gayfer
Agency: Cossette
VP strategic planning: Florence Girod
VP business lead: Benoît Bessette
Group account director: Jean Hugo Filion
Co-CDs: Anne-Claude Chénier, Anik Ouellet
Broadcast producer: Stéphanie Côté