City of Toronto talks congestion
The city is asking Torontonians to weigh in on the future of transportation with a campaign driven by an interactive website.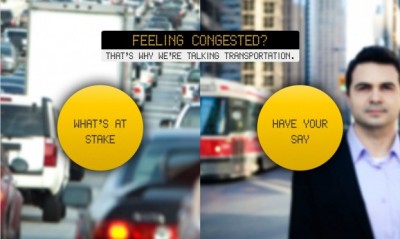 The city of Toronto is asking its residents to be part of the solution to the city's congestion problems with a campaign that invites them to offer their opinions on how to improve transportation.

The "Feeling Congested" initiative, targeted at adults 18+, features media and creative by Public Inc., with additional creative from Toronto-based Kolody. The campaign is being promoted through print placements in Metro, OOH ads in TTC vehicles and by announcements on subway platforms, all of which ask commuters to attend public consultations and push to the "Feeling Congested" website.

The website features an interactive tool, designed by BC-based Metroquest, that allows users to participate in the conversation around congestion by asking them to rank the types of investments they want the city to make in its transportation infrastructure from a list that includes criteria such as environmental friendliness and affordability. The tool also asks Torontonians for their input on how the government should foot the bill, including options such as gas taxes and income tax hikes.

Tracey Cooke, senior creative strategist, Public Inc., says that this is the first time the city is using a marketing strategy to get Torontonians involved in the public consultation process. She adds that the city is incentivizing participation by offering opportunities to win one of 40 transportation-related prizes, including TTC monthly passes, Green P monthly parking passes, Bixi bike rental memberships and AutoShare car sharing memberships.

The campaign will run until the end of March.