Muskoka Brewery marks an odd launch
The craft brewer is kicking off its Legendary Oddity beer with a print and digital campaign.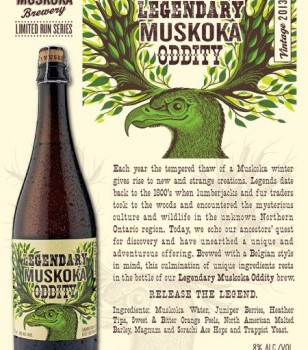 Muskoka Brewery is kicking off this year's expanded launch of its Legendary Oddity limited-run beer, which features a blend of juniper, citrus and heather tips inspired by the Muskoka winter thaw with a print and digital campaign by Rain 43, which also handled media.

After first test-releasing the beer in Ontario last winter, the craft brewer has expanded into Ontario, Manitoba, Alberta and Newfoundland this year, promoting the launch with print ads in Taps, The Beer Magazine and through its year-long deal with Toronto weekly The Grid, says Mike Laba, director of marketing, Muskoka Brewery.

Later this month the campaign will also launch a digital component that will ask consumers in its target demographic of people aged 25 to 40 to share their own unique qualities and building those into a story that will live on the Muskoka Brewery site, says Laba.

Another set of digital ads targeting the upper end of its target demo will promote the similarities between Legendary Oddity and wine, with the tagline "Unlike wine, it's beer."

"Muskoka Brewery is moving more into digital then we have before with this campaign," says Laba. "A big part of the second piece of the digital campaign will be targeting people that maybe used to drink beer in their 20s but don't anymore. Legendary Oddity has a flavour and aroma that brings it into the wine-beer hybrid category."

Laba says the target demographic of craft beer drinkers has shifted in the past two to three years, moving from older men to younger people as the category has grown.

"The target demographic for craft beer are passionate about buying local, bucking the trend and drinking unique and different things," he says. "Whether it's food, beer or coffee, they are looking for big flavours and they want to be different. It has been an interesting switch to watch the industry move, when I  started working at a craft brewery 10 years ago we were targeting 55-year-old guys who buy scotch and drive a Mercedes, now it is someone who is younger and bikes to work."

The campaign promoting Muskoka Brewery's Legendary Oddity will run through to May when it launches its summer beer, Summer Weiss.