SXSW blog: the impact of 3D printing
Alan MacDonald of Naked Creative on the MakerBot, a desktop 3D printer, and its potential marketing implications.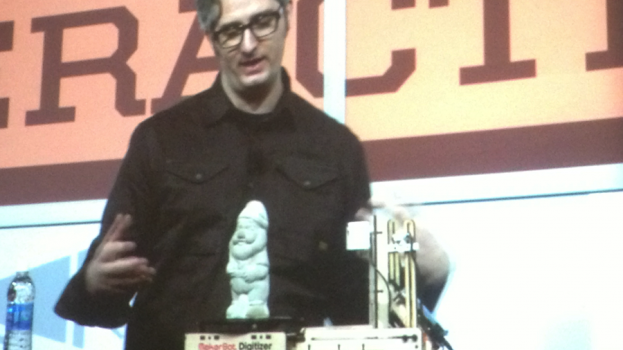 The team at Naked Creative is blogging from SXSW Interactive this week. Check back for more from the festival, and follow their micro-blogging progress at SXSW.nakedcreative.com.

By Alan MacDonald, partner, innovation, Naked Creative

At Naked Creative we're challenging the "traditional ad" (be it print, transit or billboard) and its effectiveness and we're starting to replace it with things we make. We're making apps, experiences, content and things that do so much more.

Bre Pettis (co-founder of MakerBot Industries) is leading this revolution with the invention and sales of his MakerBot, a desktop 3D printer. No, I'm not suggesting (just yet) that the 3D printer will produce things that will position a brand in the consumer's mind, but I am suggesting that we're now all able to make things. Almost anything.

When owners of a MakerBot need to make things, they don't visit their local craft store. Instead, they flip on their printer and produce anything from a kid's toys to Christmas ornaments, from an iPhone case to jewellery.

The 3D printer is a marvelous invention, and today the MakerBot is almost affordable (roughly $2,000 per unit). An extension of this product family is the 3D scanner. It is used to reconstruct a real-world object into a digital file through a process of geometric sampling of the surface of the object. Seeing this demonstrated live on stage was awesome and inspiring.

Pettis has blown open the "maker trend" with his Thingiverse, which is the iTunes of content for 3D printing: an open architecture where anyone can have access to things to print; things that others have created and shared. The ability to share a simple file via Thingiverse has enabled prosthetics to be printed for a toddler, an awesome example of the open architecture.

The marketing potential is limitless. Imagine Harry Rosen sending a digital file to their loyal customer base, a file that prints a limited edition set of cufflinks. Or, as a promotional tactic, Brand X sends thousands of replica keys (in the form of a unique digital file) to their consumer base for a chance to win a car.

We're scratching the surface as it relates to marketing. With more adoption into the mainstream, the possibilities will be endless.