SpongeBob hits the BMX ramps
The cartoon character goes for a niche target to sell merchandise, tapping the BMX community through Instagram.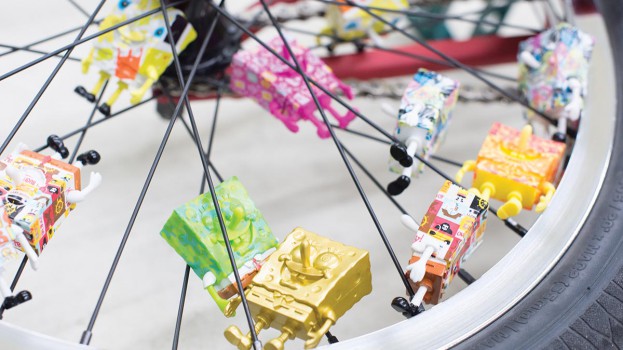 SpongeBob is going extreme.

To reinforce his cult roots, the brand is tapping BMX for a bit of grit and aspirational street cred. According to Tanya Visano, Viacom's senior director of Canadian consumer products, the Nickelodeon sea sponge character was taking too broad of an approach.

"All of our products seemed to be [an] all-over yellow, big SpongeBob face," she says. "It's still the number one animated show on YTV. If you have that much of a following, it would make sense that you would have really strong consumer products play."

But by trying to appeal to kids of all ages, SpongeBob merchandise sales stagnated despite the show's huge following. So in 2011, Viacom decided to refocus it as a lifestyle brand by tapping into its extreme sports cult following. The first target was the tight-knit community of BMX riders, who Visano says are often overlooked despite their large influence on fashion and trends.

"I think we underestimate this community," she says. "In 2001, I was working with a couple people in the BMX industry who were all wearing trucker hats before anybody was wearing trucker hats."

Viacom assembled a three-person SpongeBob BMX riding team of 20- to 24-year-olds, involving the bikers to help create the team look and swag (such as t-shirts, hats and figurines), lending them a level of authenticity.

"We needed it to feel organic and not corporate America," she says.

The team will be charged with handing out SpongeBob merchandise (with an emphasis on six- to eight-year-old boys) when they compete or do demonstrations. To launch the team, SpongeBob took to Instagram, with plans to incorporate a to-be-determined video platform, all of which will feed to Teamspongebob.com.

"It speaks to their community. They love posting video and photos [especially] when [it shows off how] they've worked for days, weeks, sometimes months on a particular trick," Visano says. "[Instagram] is something they're already doing. It's not something we're asking them to do that feels unnatural."

To help build the following, the first social campaign, by Toronto-based Salt & Pepper, offers someone from the BMX community a spot on the SpongeBob team. Riders are invited to show off their best moves (incorporating SpongeBob merchandise, such as small figurines), and the community will weigh in on the winner.

Visano says they'll continue to push out social campaigns throughout the year, targeting SpongeBob's sweet spot of young boys ("little innovators," she calls them), though she says this approach will also reach older kids and teens.

The team-designed merchandise and swag will eventually trickle into retailers as well, though Visano didn't have a set date at press time.