Beer's biggest fan
After years of decline, the (beer) world is watching as Debra Kavchak-Taylor cheers on the category with new products that go head-to-head with wine and sangrias – and messaging that focuses on taste rather than lifestyle – in the hopes that consumers will come back to Molson Coors.
In the "Mash Tun" conference room, nestled between the "Kettling" and "Fermenter" rooms (named after parts of the brewing process), Debra Kavchak-Taylor, the voice of Molson Coors, outlines her week. Today, she meets with mixologists to concoct a slew of summer beer-infused cocktails. Tomorrow, she'll be a sous-chef, working with Toronto chef Chris Brown on a Father's Day recipe guide. Last week, she sifted through pages and pages of data.
She's used to the chameleon-like nature of her role, which began with consulting on interior design, helping decide how to decorate the then flood-damaged half of the Molson Coors Toronto headquarters. It now includes conference rooms named after the brewing process, as well as four key ingredients in beer: Water, Barley, Hops and Yeast (and decorated accordingly), as well as a periodic table that sits on the right wall, detailing the hundreds of variations of beer, from wheats to stouts.
Representing the likes of Molson Canadian, Heineken and Coors Light, Kavchak-Taylor is Molson's VP of beer reverence, insights and media (the new beer cheerleader) and she's here to help everyone – from consumers to employees – love beer once again.
Macro-breweries are facing a crisis: the industry, which experienced steady sales increases through the '80s and '90s (1% to 2% per year, with each percentage point marking millions in revenue), has gone flat.
This isn't just a Canadian problem (though the Canadian arm of Molson Coors has experienced a slow but steady decline in sales recently), it's a global beer issue. In the U.S., despite posting an increased profit, sales slipped 0.8% in 2011, while in the U.K., there was a 5.1% decrease in sales, despite the industry average of a 1% decline.
In Canada, Molson enjoys 39% market share, sitting second behind Anheuser-Busch InBev (brewer of Labatt and Alexander Keith's), but according to its most recent annual report, the biggest risk it faces is its dependency on "the success of relatively few products in several mature markets." The report also states, "the failure or weakening of one or more of these products could… adversely affect our financial results."
"We are arguably the victims of our own marketing over the past 10 to 20 years," Kavchak-Taylor says. "We've talked a lot about sports and different occasions, but we haven't talked a lot about the product. We didn't even talk about [Molson Canadian] being a lager."
It was about selling a lifestyle, she says. "We were always trying to regain the cultural relevance we had with 'I am Canadian.'"
But as wine and spirits continued to grow at a rapid pace (maintaining 30% and 25% share respectively, according to Statistics Canada), introducing new flavours and catering to a more discernible Millennial palette, global brewers were slow to realize the biggest threat to share wasn't other competing macro-beer cos., but rather the micro-breweries and other alcohols.
"[So we have to] take off our 'Molson versus Labatt' lens and think about us versus other alcohols [and beverages] – even coffee and water," she says. "But we've been marketing this way for decades. And it's not an easy shift to turn around."
That's where Kavchak-Taylor comes in.
It all began in 2010 when Molson surveyed 15,000 drinkers, and (not so) shockingly learned that 89% of people who drink beer consume other alcohols. "We had this belief that there was a core beer drinker, and that we had to know, understand and win with them," she says. "[But] people who consider themselves loyal beer drinkers love other things. Even I enjoy a glass of wine."
The company decided it needed someone to focus on raising the profile of the "beer" category, rather than just brands within the company, says Peter Nowlan, chief commercial officer, Molson. A category marketer isn't a new concept, packaged goods companies often have one director oversee a large portfolio of brands. But at Molson, it was never done before. So it created the position of VP beer reverence in 2011.
The job description was a blank slate (hence why Kavchak-Taylor consulted on interior design for a few months in the beginning). But her background, which includes two years as director of Molson's insight team, as well as another nine leading or working in various insight or innovation roles at the beer co., have shaped her approach to "beer reverence," which comes from a very consumer-insight driven space – knowing and tapping into the reasons people love beer.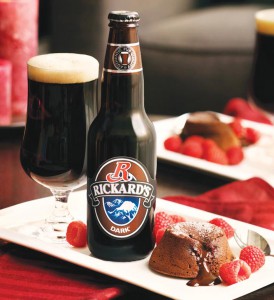 Now, she works across brands to help elevate the enjoyment of the drink itself – from food pairing options (all brands are to have a cheese pairing and she's been working on recipe guides for various digital and in-store promotional pushes), to beer-infused cocktails (dished out at events or available online for people to create at home), to entirely new products.
Her staff of 19 includes a two-person beer reverence department, an eight-strong insight team (which she estimates has doubled since 2008 in terms of people and budget) as well as the digital and social media teams. Her teams are embedded with the brands and involved at all points along the marketing journey, she says.
"I really do have oversight on everything from insights and [finding] where the opportunities are all the way through to [marketing] execution," she says.
She and the notion of beer reverence are being watched globally, says Nowlan. While there's no word on whether other markets will create a similar position, the Canadian office actively shares its marketing successes on the world stage, bringing forward ideas (such as new flavour exploration) to the global brand and innovation council. "We're creating that framework – [for example,] beer and food pairing materials – that our counterparts in the U.S. or U.K. [can] pick up," she says.
Her first year in the role was largely internal, leading company-wide tasting events or educational programs. In late 2012, she unveiled her first campaign: a digital beer and cheese pairing guide, with accompanying recipes, which has scored 88,000 visitors since launch. She began working with mixologists at Toronto's Martini Club to develop beer cocktails, and developed new sponsorship opportunities with events that aren't traditionally associated with beer, such as interior design shows and wine and cheese festivals.
In 2013, her efforts ramped up, including the development of two new product launches, Molson Canadian Wheat, which hit shelves in early March, and Rickard's Shandy (lager and lemonade), which followed in May.
Both products show off Molson's attempt to crack the taste market. The Shandy targets the non-beer drinker, while Canadian Wheat goes after the beer explorer, Kavchak-Taylor says.
Molson Canadian Wheat is the company's second white beer, and technically competes against Rickard's White. "I don't think we would have launched it three years ago," she says. "We wouldn't have seen the opportunity. We were competing portfolio to portfolio: Keith's has a wheat beer. Rickard's has a wheat beer. There you go – the Canadian market has wheat beers. We didn't have the product knowledge about the beer category to say, 'Wow, there's an entire category of wheat beers. There's lots of room to play.'"
The idea of a non-cloudy, natural wheat beer emerged. It's a light-tasting, almost citrusy-flavoured drink, maintaining the hoppy beer taste, targeted at people looking to explore different beer flavours – which pits it against micro and craft breweries.
Though the ads emphasize the idea of "natural," (with creative by Rethink featuring two made-up girls revealing their natural beauty as a waiter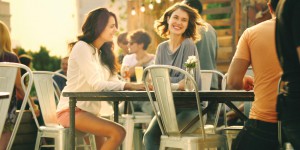 walks past with a tray of beers), a good chunk of promotion is left up to the packaging and relies on sales associates to talk up the beer in store. For the first time, Molson utilized the back of the bottle for pouring instructions (like many foreign or micro-brewed wheat beers), and spoke at length internally about how to describe the new beer to Canadians prior to the launch.
"[We had] so many meetings around the word 'natural' and what that conveys," she says. "[There was] lots of discussion around [telling people] the ingredients. You'll see on the key ingredients list 'soft spring wheat' – [but] do consumers really care about that? They do. It all matters now."
The Shandy, on the other hand, is a Rickard's lager mixed with old-fashioned lemonade, so the creative, also by Rethink, also has an old-time feel. Rickard's beers tend to over-index in shoulder seasons, such as spring and fall, when people are looking for a drink to warm them up. Kavchak-Taylor says the Shandy was a perfect way to bring Rickard's to the patio – allowing it to compete against the likes of sangrias and cocktails, and is directly targeted at non-beer drinkers.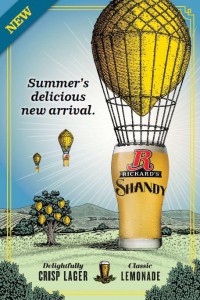 It's all about elevating the beer experience. If someone likes a Shandy, perhaps they'll try a Coors Light Iced T (launched this time last year), which may lead them to more traditional flavours, such as Heineken or Canadian. But it's a long-term fight, and not one that'll help the brand sell more of its traditional product off the bat.
"When you're in a tough business environment and markets [are] declining, you're really having to fight for business results," she says of the challenges she's faced over the past two years. "It's hard to make choices – whether it's dollars or time – to work on things that aren't giving us immediate results. And [Molson] doesn't have more marketing dollars today than before – so it's making choices where we spend, and quite often [beer reverence] loses out. To know there's so much opportunity out there we're not taking advantage of is a tough thing [to swallow]."