Courvoisier drives a new experience in stores
The cognac brand has launched its first major in-store program for a contest that awards customers travel and food goodies.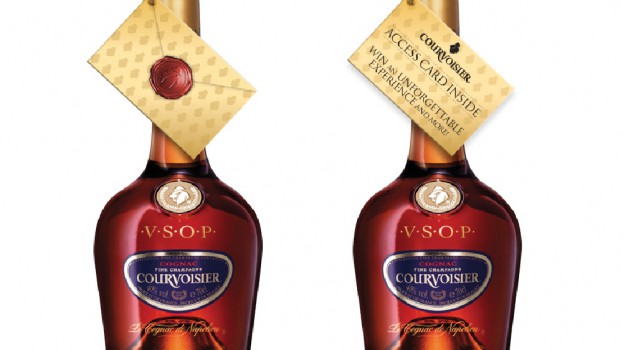 Beam Global Spirits and Wine-owned Courvoisier (often referred to as "The cognac of Napoleon" because of his affinity for the drink) is moving away from traditionally executed tasters at liquor store doors and hitting the aisles with a new fall contest-driven program.
The "Unforgettable Experience" program, with Toronto agency Think Tank behind the retail activation and Matchstick Marketing, also in Toronto, handling the Facebook component, began in August, with the in-store elements rolling out this month. In stores across the country, neckties around the brand's cognac bottles promote the contest, while in locations not controlled by government boards (such as in Alberta and British Columbia), the brand is promoting with aisle signage and shelf header cards.
Many retail programs that involve a contest these days use numbered pins on product packaging for consumers to enter online to win. Courvoisier is following this data-gathering trend for its contest, however, stepping it up a notch with a gold-coloured "Access Card" that reflects the brand's premium imagery and opens the door for consumers to win bonus prizes.
Anyone can enter the "Unforgettable Experience" contest online for the chance to win a sensory experience (trip to the Courvoisier Chateau in France), an indulgent experience (flight and accommodations on a secluded island) or an adventure experience (an African safari). The gold cards, which are given to those who purchase the cognac, provide customers the chance to win one of 1,000 gift cards worth $100 for Gourmetsecrets.ca – an online gourmet food delivery service.
Laura Shepherd, account director at Think Tank, says many consumers still think of Courvoisier as their father's drink. And though the brand's core audience is men age 35 to 55, this program allows it to appeal to a younger target of 25- to 35-year-old "urban game-changers" with the aspirational travel rewards. "Courvoisier wanted to launch an integrated campaign that engages both the older cognac drinker as well as bring in a new younger affluent target," she adds.