Global tour: disruptive retail concepts
From Asda in the U.K. to E-mart in South Korea, DDB's Jason Dubroy tours the globe for retail concepts that may change the way goods are sold.
By Jason Dubroy, VP managing director, Shopper DDB
Shopping like a cook
For many would-be home chefs, there are very real gaps between inspiration, enablement and creation of the meal.
Canadian grocery stores are filled to the brim with single ingredients calling out for our time and attention. But with many people not having enough time or skills to fulfil their foodie aspirations, it seems odd that there hasn't been a grocery store that caters to recipe creation…until now.
Berlin-based Kochhaus (pronounced Coke-house) translates into "The Cook House." Inside you won't find well-stocked bins or overflowing shelves. Instead you'll see 18 to 20 tables, each devoted to a single recipe, with the requisite ingredients to make the meal displayed in baskets and bowls. Flanked by coolers of meat or fish and a suggested bottle of wine, each recipe features an exotic ingredient you'd probably never think of buying on your own, such as rambutan fruit, guinea fowl or edible flowers.
The merchandising is complete with art print-quality header cards showcasing the products needed for each meal and a folded recipe card on glossy stock with step-by-step photo instructions.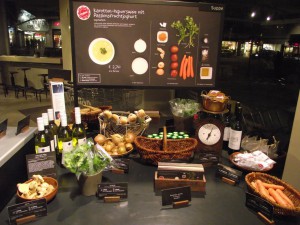 Instead of needing to scour recipe books or websites ahead of the shopping trip, then running all over the store to find the ingredients (and doing the mental math to translate it to the required portions), almost everything is done for the consumer, helping to save time. By only buying the amounts required (between two and nine Euro, but as a rule, never more than 10), consumers also save money.
There are never more than 20 recipes showcased at one time, but new ones are introduced weekly to drive repeat traffic. No dish has more than 12 simple steps, and none takes more than 60 minutes to prepare. Organics and local ingredients are used almost exclusively, and most recipes are geared for the novice cook. And to top it off, they deliver.
U.K.: Asda's self-checkout tunnel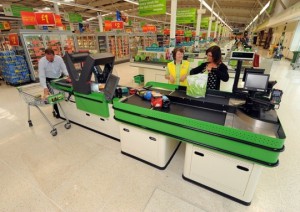 Self-checkout was once hailed as the future of retailing, eliminating the need for cashiers and improving the shopper experience by saving time and aggravation.
After roll-outs around the world, self-checkouts were found to be anything but – it increased annoyance and time during checkout, tended to be expensive to install and maintain, and the benefits of eliminating the cashiers were negated by shoppers steering clear of the self-serves altogether, creating longer lines at the conventional lanes.
U.K. supermarket chain Asda (a Walmart subsidiary), partnering with German tech firm Wincor Nixdorf, has declared it's found a fix that will revolutionize the industry.
In its York superstore, it is implementing a "barcode scanning tunnel" that can read the code from any direction in three dimensional space, eliminating the need for anyone to pick up and turn or fumble with the product to find the barcode, and physically pass it over the reader.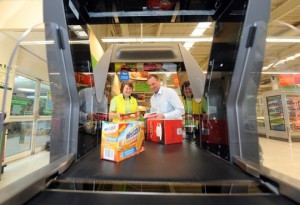 This allows for checkout time to be three times faster than a conventional line, with up to 100 items per minute to be scanned. A "split conveyor system" speeds things up even faster by diverting one customer's goods to be bagged while the machine accepts the customer right behind to immediately start scanning.
The machine only takes plastic-based debit or credit, eliminating the need to accept tender or make change, and discounts are automatically applied through the till.
South Korea: E-mart lights the way
Discount giant E-mart has been a world leader in shopper technology, instituting its award-winning "virtual store" in subway stations and implementing QR code installations that discounts depending on the position of the sun.
It's no surprise that it brought innovation inside the store.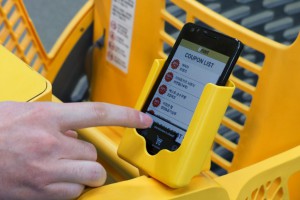 E-mart aimed to make in-store navigation simpler and more relevant. Most in-store navigation tools rely on GPS, which can be finicky in an enclosed environment, or near-field communication (NFC) chips, which have expensive-to-install readers. Further, both forms of tech are associated with privacy concerns.
Called "E-mart Sale Navigation," the system merges the concept of GPS with special LED lights installed on the ceiling throughout the store, which sends information attached to lenses installed on E-mart shopping carts. If you have the app on your smartphone and it's docked into the cart, you will be guided around the store by visual representations of the aisles on the map.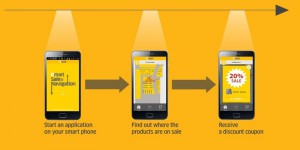 Finally, if you approach an area where there is a discount coupon associated with a product, it will pop up on your screen. Talk about lighting the way forward.