Interac asks students to get creative
The brand is promoting its e-transfer product with magnetic boards across 10 campuses that encourage them to reveal reasons why they need money.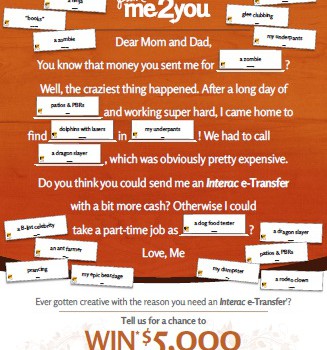 Interac is asking university and college students to get creative about the reasons they need to borrow money from their parents with a new interactive campaign to promote its e-transfer product.

With creative from Fuse Marketing Group and media by Aegis Media's Deep Blue, the campaign features on-campus billboards at 24 universities across Canada, including University of Toronto, McMaster University, University of BC and Dalhousie University. While many of the billboards are traditional static boards, 10 campuses host magnetic boards, created with help from Newad, with word magnets on them that students can rearrange to form their reasons to ask for money.

Students are also encouraged to take the word magnets, which have Interac branding on one side and the tagline "Ever gotten creative with the reason you need an Interac e-Transfer?" and a call to action on the other that drives to the campaign microsite. The microsite asks students to submit their stories to be entered into a draw for $5,000. Students can also share their stories and view an interactive map of where other stories have come from.

Stephen Brown, president, Fuse Marketing Group, says this is the first time Interac has gone on-campus and targeted students to promote e-transfers. He says students were an ideal target for this time of year because many of them are still adjusting to life on campus and learning that their money doesn't always go as far as they expect it to.

He adds that this program is part of a large push for Interac's e-transfer product, noting that the brand's goal is to make it a top-of-mind alternative to the more traditional methods of giving cash or cheques.

The magnetic boards will be on campuses for four weeks, while the traditional billboards and the contest run until the end of November.