Brand building in a multi-screen world
Lynne Clarke argues that success in the future will rely on understanding how to interact with consumers and on which screens to best do it.
By Lynne Clarke
"It's about the branding, stupid."
With apologies to James Carville, that's how it sometimes feels these days. Over the past few decades, the concept of brand building has increasingly taken centre stage in our daily language and lives. Once a term used only by marketing professionals behind closed doors, branding has evolved into an inescapable fact of modern life.
The world's most recognizable companies? They're well-branded. Failing political parties? Weak brands. Miley Cyrus at the VMAs? She's just re-branding.
Yet, while our collective obsession with branding has never been stronger, a multi-screen world of mobile devices conspires to make effective branding more complex than ever.
There are few trends more important to marketers than this emergence of "simultasking" – connecting with different communities and consuming various types of content, often in ways that overlap.
Research undertaken by Microsoft has identified four distinct pathways into content that today's users typically take.
First is Content Grazing, otherwise known as "surfing." Grazers are, by definition, distracted and looking for a momentary escape. But far from being casual, they tend to be highly habitual, routinely seeking hits of online information to break up their day. For marketers, the challenge with Grazers is to insert their brand messages into these quick moments of surfing with content that adds to, rather than distracts from their experience.
Labatt successfully connected with Grazers by creating an engaging content experience for Kokanee. As part of the campaign for The Movie Out Here, a feature-length film funded by Labatt and produced by Alliance Films, the brand encouraged fan participation by inviting them to audition for a role, submit a prop or location or suggest music for the soundtrack. By creating a highly valuable interaction worthy of consumers' precious time, Kokanee gave Grazers a reason to pause and pay attention. (Plus, it won a Gold B!G Award.)
Next is Investigative Spider-Webbing – viewing related content on two or more screens at the same time. Perhaps you're watching Game of Thrones on one screen and then turn to a second to research one of the actors. Interestingly, this is a behaviour that Canadians display in uniquely large numbers, presenting a huge opportunity for marketers.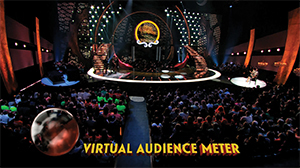 CBC continues to demonstrate leadership in providing engaging second-screen experiences for its viewers. Last season's Over the Rainbow reality competition, for example, allowed viewers to connect with the show online or via an app. As Julie Bristow, then executive director of studio and unscripted content at CBC, explained: "We don't just make TV at CBC anymore; we make experiences for the audience."

Using social to connect and share content across screens is the third pathway. Here, the rewards will come to marketers who build compelling discourse-sparking cultural commentary – be that through reward, recognition or by empowering people to feel part of the brand's DNA. Oreo tapped into this pathway with this year's much-hyped "dunk in the dark" Super Bowl tweet, which recognized consumers were enjoying a distinct experience around the big game, via Twitter, on their mobile devices.

Finally, we find Quantum Journeys – where we start an activity on one device and continue on another as we work to complete a "task."
When McDonald's Canada took their highly successful "Our Food. Your Questions." digital campaign to television and outdoor media last autumn, they were tapping into this quantum-like behaviour. By taking their message into multiple channels, the brand was able to reach consumers in a number of places and spaces to bring them into the online dialogue. Importantly, those messages were consistent and additive.

So how should marketers make use of this information? Just as knowing where and when to best connect with consumers have been timeless fundamentals, the future will rely on understanding how to interact with consumers and on which screens to best do it.

It's a very different way of thinking about branding that contradicts some very accustomed habits. But those marketers who take a multi-layered approach to content distribution and brand messaging in the future will be the case studies we'll all be reading in the years to come.

Lynne Clarke is marketing director at Microsoft Canada. Advertising.microsoft.ca