Brands of the Year: DavidsTea brews up growth
The Montreal-based café and retailer is bringing tea to the masses with a fashion-forward and community-focused business philosophy.
At NKPR's annual Toronto International Film Festival IT Lounge (a gifting suite for celebs and media), people wander among the product haul, the room decked out in a black, pink and gold '70s theme, complete with patent-leather chairs.
More than one mingler is carrying a cup of DavidsTea from a station located at the back of the lounge.
Two staff members stand behind a table and walk folks through the differences between its Glitter & Gold (a black tea with gold baking pearls) and Movie Night (complete with real popped popcorn). Over the five-day run of the IT Lounge, DavidsTea handed out samples to the likes of Adrien Brody, Life of Pi actor Irrfan Khan and Colin Mochrie, as part of the brand's PR and marketing strategy. Oprah Winfrey already declared her love for Red Velvet Cake tea earlier in the year.
Even though it's only six years old, Montreal-based DavidsTea has taken the loose-leaf tea world by storm, demystifying the brew with its fashionable, youthful and chic outlook on the biz.
Today it has 93 Canadian locations and a footprint as far east as St. John's, Nfld., west to Vancouver and as far north as oil town Fort McMurray, AB., alongside 15 U.S. stores in New York, Boston, Chicago and San Francisco. But Jevin Eagle, CEO, DavidsTea, says there's still plenty of room to grow.
Since he joined the company two years ago (to help with the U.S. expansion), Eagle, former EVP marketing and merchandising at Staples and partner of retail at McKinsey & Company, says the Canadian locations have doubled, while in the States, the chain has skyrocketed 700%.
Next to water, tea is the second-most consumed beverage in the world, though in Canada, it sits fourth, behind soft drinks, coffee and milk. More than 10 million cups of tea are consumed by Canadians each year – roughly 300 per person – according to Statistics Canada. This represents almost $1.5 billion, a number that's expected to jump almost 40% by 2020, as more Canadians embrace the brew for health or wellness reasons and the profile of the industry booms.
The bulk of tea is still sold in bagged format – think Tetley or Tim Hortons – though specialty (under which loose-leaf tea falls) is a growing segment of the industry.
However, until 2008, when DavidsTea was founded, the majority of loose-leaf tea shops tended to be smaller stores, run by avid tea-lovers, and had a more Asian or British appeal (DavidsTea's main competitor, Georgia-based Teavana, subscribes to the Asian esthetic in its cafés).
"The business idea was to take the second-most consumed beverage in the world and make it fun and accessible. To demystify it and make it modern," Eagle says.
The idea came from David Segal, with funding from co-founder and cousin Herschel Segal (who originally founded fashion retailer Le Château).
The brand's identity hasn't changed much since its inception. Retail locations are built with a Scandinavian look and feel; airy and open with bright pops of colour (including its signature teal). At its first Queen Street location in Toronto, two large teal Muskoka chairs sit on the sidewalk patio, inviting folks to take a load off and enjoy the sun. Inside, fun tea paraphernalia and sampler kits line the teak and white shelving against the wall.
Behind the counter sits a periodic table of teas in silver canisters. Different types of tea, such as black, green and rooibos are colour-coded, making it easy for the well-versed tea drinker to pick and choose a flavour.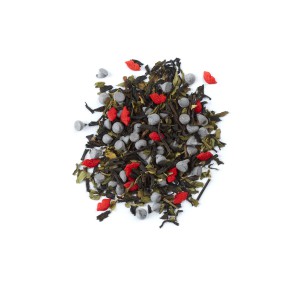 And this isn't your grandmother's cup of earl grey (though the brand does carry four EG varieties, including "The Earl's Garden," which is infused with strawberry pieces, blue cornflowers, calendula petals and bergamot oil). The varietals include a staple of 140 or so flavours and a handful of rotating options, such as September's Strawberry Rhubarb Parfait (which contains apple, hibiscus, raisins, carrot, yogurt bits, beetroot, strawberry and rhubarb). Many are interesting mixes, such as Read My Lips (peppermint, dark chocolate and red lip sprinkles), and have cutesy names (such as Jumpy Monkey, Queen of Tarts or Rooibos de Provence).
And though you can sit in the café, the majority of the company's profits come from bulk tea sales and tea accessories such as tea pots, themed sampler kits (such as Sweet Indulgence), and its "perfect mug" cup, which comes with a tea steeper. Because it's a private company, financials aren't disclosed, but Eagle says the brand is very successful, pointing to its rapid store growth over the past two years as proof.
The brand, which doesn't define a target, preferring to say it targets all tea lovers, does appear to skew heavily towards younger women. "The personality of the brand (youthful, open to trying new things, healthy, fashion forward), happens to appeal to a lot of people, but particularly women in their 20s and 30s," Eagle says.
The marketing strategy, run by a marketing and PR team of 15, includes almost zero paid advertising. "It's not an efficient way to spend money," Eagle says. "The business model is all around relatively expensive rent in really cool neighbourhoods or high traffic malls and [training] our people."
Social media, over channels such as Twitter, Facebook, Pinterest and Instagram also plays an important role. On Twitter, the brand's feed is populated with conversations with tea drinkers (it's descriptor reads: "Talk tea with us. It's kind of our thing."). The brand leverages image-heavy channels Facebook and Pinterest to push out new products and continue the dialogue with consumers. Its first social contest, bowing this month, will invite fans to submit a name for the latest flavour.
Its staff, or "tea ambassadors," as the company calls them, attend a nine-hour tea training session and receive on-the-job apprenticeship-style learning to further enhance their knowledge of tea.
And it pays off. On a busy Friday morning at the Queen Street location, a tea novice asks for something chocolatey.
Out comes three tins – Read My Lips, Red Velvet Cake and Coco Chai Rooibos – which are sniffed, not unlike a wine tasting (an enticing whiff of chocolate and mint, chocolate and sugar and chocolate and cinnamon), while the employee rattles off the ingredients in each.
She brings out four more tins before the customer settles on Coco Chai, which she demonstrates how to make at home as well, should the customer come back for a bulk order of the tea leaves.
"It's a lot of show and tell," says Bradley Grill, PR director at DavidsTea. "People aren't really used to loose-leaf tea. Up until a few years ago no one was really making it fun or easy."
As such, a lot of the brand's marketing efforts are simply getting the word out through PR pushes and local community-focused events, building awareness for each individual retail location, he says.
From a macro perspective, the brand targets celebs and influencers, such as setting up tasters like at the NKPR IT Lounge and sending personalized packages to names like Oprah or Cindy Crawford (the former tweeting about her gift, causing a run on Red Velvet Cake tea). But on a more micro, grassroots level, the brand puts a lot of effort into getting to know a community, hosting localized launch events, making the retail shop a hip destination.
For example, for the launch of its downtown Chicago location in October 2012, the brand partnered with local mixologist Tyler Fry, calling on him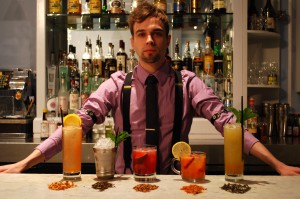 to create tea-based cocktail recipes, which were served at the party (open to the public and the media), and seeded out through the brand's social channels and the press. The event generated more than half a million media impressions in the region. DavidsTea has since brought Fry back to create summer tea-infused cocktails.
Getting employees involved in the local community is a huge component of the brand's marketing philosophy, and most of the trust is put in the hands of its employees at retail level.
The tea ambassadors are well trained in the brand's identity and purpose, says Melanie Barbusci, field marketing manager at the company, and as such are trusted to choose their own events or community activities to participate in. She estimates more than 1,000 events are handled by retail employees each year, with a centralized coordination team, based out of Montreal, available to help when necessary.
"We're big believers in community," adds Eagle. "[We do] everything from farmers' markets to street fairs. We have an expression, 'Random acts of tea,' when someone is down or out or [say] after the hurricane [Sandy], we gave out tea at the fire station."
Over the past three years, the brand has branched out to bigger events, such as setting up refresh tables at Montreal's Osheaga or Whistler's Wanderlust Festival, to build on its local activations, Barbusci says. "We're looking for an environment that's really creating a community surrounding something people are passionate about."
For example, in early August at Wanderlust, which brings together yogis and music lovers in a travelling festival, the brand handed out more than 8,000 free cups of iced tea at its refresh tent, says Barbusci. The event, which was chosen because of the community vibe, had a strong focus on wellness, health and positivity, making it an ideal setting for the brand, she adds.
"It's such a fantastic moment when I'm on site at these events and someone says, 'I've never had loose-leaf tea,'" Barbusci says. "People are looking for an alternative to a beverage – water or soda – so having that conversation about loose-leaf tea and its possibilities, and using these events for education, has often proven itself. After a local initiative, we definitely see people coming into our shops immediately after – or sometimes during the event."
The strategy has worked, with brand awareness skyrocketing.
"When I come into the country and go through customs, I would say 100% of officials I've met in the past 16 months have heard of DavidsTea. And that's not our core customer," Eagle, who is based out of the Boston office, says. "I typically get a funny comment like 'My significant other/spouse/girlfriend/daughter, spends way too much money at your store.' And I love that."