MAOY Gold: OMD grows for Gold
The agency takes the top media award for work for Subaru, McDonald's and Lay's.
Is bigger better? If you're looking at this year's Media Agency of the Year Gold winner OMD you wouldn't be faulted in thinking the answer is yes. The agency, which jumped a spot from last year's Silver finish, also held the largest market share in Canada in 2012 with 12.1%, and overall activity of $988 million, according to a RECMA study that was released in July.
The Omnicom-owned agency that will become a piece of the mega-huge Publicis Omnicom Group when the deal closes in the next quarter has also seen its size go up within Canada in 2013.
The agency's Montreal office, which rebranded itself from OMD to become Touché! OMD in 2012 to fall under the remit of Touché! PHD CEO Alain Desormiers and general manager Nicolas Marin will have grown to three times its size between the time of the name change and the start of 2014, says Cathy Collier, CEO at OMD Canada.
New business the office has won since the name change includes Reitmans, Standard Life and Fifa's upcoming push in advance of the 2015 Fifa Women's World Cup.
"The momentum Touché! OMD has gathered has been great," she says. "Before the change they had a nice office and served clients well, but there was not the kind of growth and independent identity there is now."
A theme of change at the top leading to a renewed spark at the office continues at OMD in Vancouver, which is now being led by Jason Snider, who took over the spot as general manager earlier this year when long-time office leader Rick Sanderson went client-side following eight years in the role.
At both OMD's Toronto and Montreal offices, Collier says the agency has been changing within its walls over the past year as well, creating open office areas with break-out rooms for greater collaboration. She adds the only person with their own office in the agency is the CFO.
Overall, change at head office in Toronto has continued to come from the agency's digital offerings, which are led by managing director of digital Shane Cameron.
While business growth is rarely a negative thing, Collier says the fast pace at which digital has taken off means the supply of high quality, available staff in the field is not keeping up with demand. That's why she says OMD is taking the philosophy of hiring for attitude and helping to grow their skill sets where they are most needed, in digital overall as well as in more specific areas like data analysis.
"We are lucky to have Shane Cameron leading our group because he is extremely talented and I think people come to work with him. But growing good talent is going to be our philosophy across the agency because as the media world changes we are going to need different skills and to grow that from someone who is graduating from university or college is the right way to start," she says. "It isn't as immediate as hiring in, but I think it is a much better long-term solution."
It's clear talking to Collier that OMD has no plans to slow down its growth in the next year, looking to add people who can see storytelling across platforms rather than in silos, and also analysts who understand programmatic buying in both junior and senior roles.
All eyes will be on OMD's trajectory over the next year, and what impact the upcoming mega-merger might bring.
*****
New business: Reitmans, GoDaddy, Cisco, Luxottica, Vancouver International Airport, Milk West, Standard Life, 2015 Fifa Women's World Cup.
Staff: 250
Offices: Toronto, Montreal and Vancouver
*****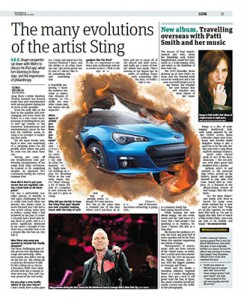 Subaru feels the heat 
Subaru wanted to get urban males to start dreaming of owning one of its sports cars. So it enlisted OMD to help launch the Subaru "Scorched" campaign to literally illustrate the "hotness" that its BRZ sports model exudes.
The agency placed custom disruptive ads in urban weeklies and commuter newspapers. For example, the front cover of The Grid was converted to a lenticular that turned the 2D medium into a dynamic 3D format with the car, engulfed in flames, appearing to jump out of the front page. And in Metro and Voir, readers were confronted with an image of the car surrounded by "burnt paper" in the middle of the publication, with the following page appearing to have a hole burnt through it.
The campaign helped Subaru turn "wants" into sales. The entire production
line sold out in six months and 50% of the pre-orders for the second run were reserved.
McDonald's responds to food myths
The internet can be a conductor for myths, so when McDonald's decided to speak up about the falsehoods around its food being spread online, OMD implemented a digital strategy to combat the negative media attention.
The agency leveraged social, display, mobile and video, placing banner ads with real questions from consumers about the QSR's food to encourage people to visit the "Our Food. Your Questions." microsite created by Tribal Worldwide. Each question was answered individually via text, photos and video and placed on the brand's social media pages and website. The campaign was taken offline and amplified with OOH executions, such as projecting received questions and answers on the sides of buildings, as well as subway dominations and street-level executions.
The brand used television as the story began to spill over onto news stations, aligning McDonald's TV ads with news segments talking about the campaign, all of which helped drive 1.2 million unique visitors to the microsite. More than 18,400 questions were answered and 6.5 million of those answers were read by visitors to the site.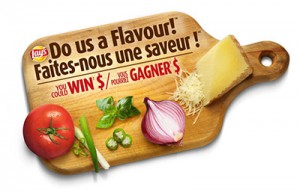 Lay's asks Canadians for a flavour

In the spring of 2013, Lay's asked Canadians to dream up, name and share the chip brand's next big flavour for the chance to win 1% of its future sales, plus an additional $50,000.

To drum up awareness for its "Do Us a Flavour" program, OMD placed an ad introducing the contest to Canadians during the Super Bowl. The TV placement was also paired with SEO marketing to have the brand own online searches relating to the Super Bowl.

The program relied on consumers promoting and sharing their chip creation using the brand's custom Facebook app. Social ads were personalized for each chip and optimized by region, and the agency worked with the social media site to have the "like" button on the Lay's newsfeed replaced with "I'd Eat This" – a Facebook Canada first.

Comedian Martin Short was chosen to be the program's spokesperson and was featured in TV spots rallying Canadians to participate by creating their own flavour or voting for their favourite. Television ads ran adjacent to interview spots with celebrity hosts (for shows such as Canada AM and ET Canada) talking about their own flavour creations.

Final results surpassed the brand's objectives by 245%, with more than 633,000 flavours created by Canadians.