MAOY Silver: PHD plays to win
The agency wins Silver in the media category for work for Amway, Snuggle and Sport Chek.
Though it is a fellow Omnicom Media Group shop, don't expect Silver MAOY winner PHD to play nice with its Gold-getting sibling OMD. Rob Young, SVP director of insights and analytics at PHD says much like real family members, things can get pretty heated between the two agencies, which often go head-to-head for the same accounts.
That competitive attitude likely played a role in PHD winning a spot back in the MAOY winners' circle following three years off the list, last there when it took the top prize in 2010.
PHD also scored a Bronze in Cannes this year, taking home a Lion in Media for its "Your Better Starts Here" work for Sport Chek that saw the agency launch a new tagline for the retailer by planting signage at over 500 locations across the country where the journey towards a new self would begin, such as entrances to gyms and university sports centres.
Fred Forster, CEO at PHD Canada and Omnicom Media Group Canada, attributes much of the agency's success to it structuring itself in a way that best enables collaboration and integration. That includes adding to growing media channels, such as search, for which it built out its team this year by adding Ben Aydin as paid search director.
"There are so many new media channels and technologies coming at us all the time," Forster says. "Innovation happens best when we facilitate multi-discipline team environments against individual client business."
To maintain its edge among increasingly tough competition, this year the agency rolled out a gamified planning system, Source, globally. Forster says big international wins like Unilever and the planning business for GSK were won in part due to adding the system, which uses game mechanics to encourage collaboration between agency staff members within local shops and between global offices, with the ability to add ideas to projects and gain points on a global leaderboard (the current worldwide leader is Tammy Gardner, group account director, who recently moved to the new Toronto office of Touché! PHD from the original PHD office). Forster says Canada just passed the U.S. on the leaderboard to land in the number three spot globally, sitting just behind Australia and the U.K.
"I think our place on the leaderboard speaks to how much we have adopted Source here and integrated it into how we deal with client business," he says.
Young adds that Source has "really brought the network together," and while it is currently primarily used by planners at PHD, it is also being picked up by buyers and clients as well. He says projects usually get between 25 and 30 suggestions from around the world when they are first posted on the system, with around 20% of those being useful enough to put into practice on the campaign. Getting a different perspective and fresh set of eyes on projects is a big bonus, he says. For example, suggestions coming from Spain are generally softer, warmer and less analytical than ideas for media plans that come from the Canadian offices.
It is elements like Source that help to keep the creativity Forster says is necessary in today's media landscape alive in PHD's Canadian offices.
"As an agency I think we've been successful by encouraging and celebrating creative thinking and innovation," he says. "If creativity is the idea and innovation the execution of the idea, it takes effort, ambition and a certain doggedness at times to make it happen. To innovate today often requires overcoming client anxiety, selling ideas, getting out of comfort zones and challenging the status quo. In the end it's about talented people who believe that innovation can make a difference for their clients' businesses and then love coming to work every day to make it happen."
*****
New business: Moen, Ontario Charitable Gaming Association, HTC Corporation and Canada Goose.
Staff : 190
Offices: Toronto and Montreal
*****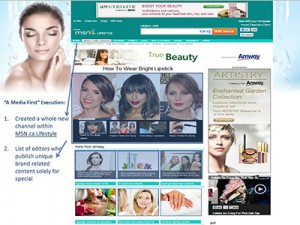 Amway shows it's always on
Amway is an e-commerce platform that has millions of global independent sales agents selling products in the health, beauty and home categories. In recent years, its "favourability" index was waning, especially among the Gen X and Y audience, due to negative press alluding to it being a pyramid scheme.
In the past, the company relied on eight-week-long TV campaigns, but PHD found that to communicate its message of "always open, always on" as well as change the digitally-savvy consumers' unfavourable view of the company, it would need to move its marketing online, for an entire year.
Amway partnered with Microsoft Advertising to create three specially-curated editorial environments in MSN's lifestyle section. The agency helped create three months worth of spring "True Beauty" editorial features (which spoke about Amway's beauty products), three months of "Summer Ready" (health, body and bath products) and three months of fall/winter "House and Home" (cleaning brands).
The wholly digital campaign drove high levels of consumer engagement and new perceptions of the brand. And while it's still in progress, early measurements indicate a success, with time spent with the branded content averaging three-and-a-half minutes (versus the average two minutes on MSN). Also, an Engagement Impact study reported that those who viewed the content were tthree-and-a-half times more likely to perform an Amway search or visit its website.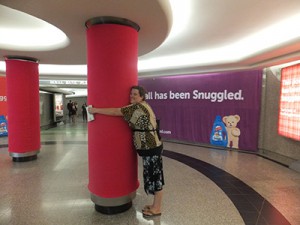 Transit gets Snuggled

Working moms find most days stressful, having to juggle work, family life and everything in between. So to demonstrate Snuggle's new positioning of "a soft touch in a challenging world," PHD wrapped out-of-home touchpoints with fabric and textures after they had been washed by the laundry softener.

The brand utilized media to provide unexpected soft spots in places moms frequent throughout the day. Ads were placed in malls, office buildings and transit areas with the tagline "Get Snuggled" and messages tailored to the specific media, for example, "This train has been Snuggled."

Bringing a new meaning to "consumer touchpoint," the agency helped increase sales for the fabric softener by 6% compared to the year before and caused a stir on social media with consumers tweeting about the ads and comparing them to a "soft pillow" after a long day and making for the "Best seat on the GO [train]."

Sport Chek works out a new strategy

When Canadian sports retailer Sport Chek launched a new tagline "Your Better Starts Here" in late 2012, PHD looked to deliver this message where the consumer's journey toward a "better self" typically begins: at the start of their workout routine.

The agency introduced the retailer in 500 different sport-related locations. In some cases, new media channels were created in places that previously did not exist. Ads were placed on lockers, in spinning rooms, weight rooms, dance studios and on the running tracks in hundreds of gyms and university sports centres.

Research also showed that sport enthusiasts are avid tech users, so the brand used smartphones, iPads, computers and smart TVs to deliver sport-specific videos that inspired the viewer before they began their workout activity. Also, an Xbox Live branded content page was created for users to view all of the videos with a free downloadable digital poster offered to players to use as their Xbox wallpaper.

In just 70 days, the videos reached millions of viewers, and in less than five months, Sport Chek's Facebook following doubled to 625,000 from 300,000. In addition, campaign awareness was double among sports enthusiasts compared to the general population.