PostMan and Target win big at the ICE Awards
The Halifax-based post-production studio picked up Best in Show and a Gold at the Atlantic Canada awards show, while agency Target picked up five Golds.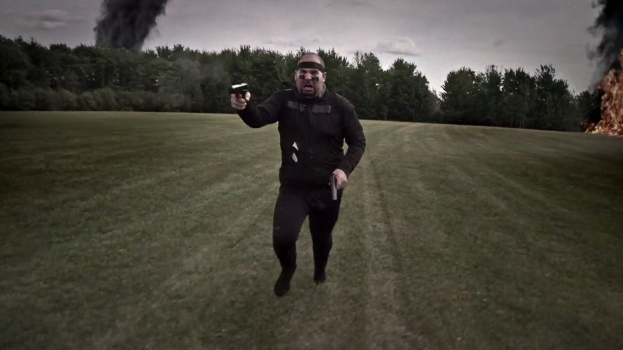 Halifax-based The PostMan Post-Production studio picked up the Best in Show honour at the ICE Awards in Halifax. The studio also won Gold in the Self-Promotion category for its humorous video that features a man running through a gritty battleground, only to reveal that it's a bright and empty field, as he's followed by an FX crew.
Other big winners from the evening include St. John's-based Target Marketing and Communications, which picked up 22 wins, including five Golds, for its work with Newfoundland and Labrador Tourism and Flowerchild, a local toy store. The "Find Yourself" campaign, which has picked up numerous awards from the CASSIES, ICE, CMAs and more, romances the sights of Newfoundland. For Flowerchild, the agency picked up an OOH nod for it's creative featuring cherub angels reaching for battery-free toys.
Other Gold winners include: St. John's Bonfire Communications in the Identity category, for its self-branding work; Halifax-based app developer Mindsea Development in the Mobile Application or Website category, for its self-promotion application; St. John's Spark Marketing in the Best Use of Non-Traditional Media, for its live social network for Marble Mountain Resort; Halifax-based Revolve in the Non-Traditional Campaign category, for its silent choir work with the Hearing Foundation of Canada; Halifax-based Colour in the Website category, for its work with the Doctors of Nova Scotia; Halifax-based Famous Folks in the Website under $10K category, for its client Fight for Independence (it also picked up three other awards); Halifax-based Trampoline in the Non-Traditional Public Service category, for its work with Shelter Nova Scotia; and Dartmouth-based Journeyman Film Company, for its public service campaign for IWK Health Centre/Nestle Health Science.
Other big winners of the night include Halifax-based Chester + Company, with 11 wins; Halifax-based Extreme Group, with six awards and Moncton-based M5 Marketing and Communications with five awards.
Head to Ice2013.icebergapp.com for a full list of winners.