Holt Renfrew bows retro and techy holiday plans
The luxury retailer partnered with Samsung and Moment Factory to launch participatory holiday displays.
This holiday season, Holt Renfrew is going for a vintage Canadiana vibe with some seriously teched-out in-store properties and an expanded private label foody gift line for its 2013 "My Northern Noel" campaign.
The luxury retail brand relies almost exclusively on its in-store marketing activity – as well as an annual holiday catalogue – to engage its primary shoppers of men and women aged 30 to 45 with an appetite for luxury products, and help drive sales during the busiest shopping season of the year.
The slew of in-store activity centres on an intricate window display with a retro theme that is carried throughout the store. The campaign, which took a year to put together, rolled out on Nov. 1 and will continue until early in the new year.
The inspiration for this year's windows, which have become a destination for shoppers unto themselves, says Kimberly Grabel, SVP marketing and customer experience, is a vintage northern holiday look, inspired by old Canadian ski ads.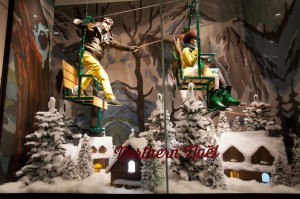 "We wanted to go back to something that's very Canadian and inspired by the Canadian lifestyle, so we picked the ski/après-ski experience," she says. "The holidays are a really heart-warming time. And to go too modern, you lose some of that warmth. We get really good feedback from our customers who want to be taken back to their childhood in some way. So that's very much what we're trying to evoke."

Mannequins – some commissioned to look like those from the '50s and '60s – flaunt designer duds amid a ski-lodge backdrop. Vintage finds from thrift shops, including skis, plastic snowmen and games, set the scene. In the middle of the store's Calgary, Montreal, Vancouver and Bloor Street Toronto store windows, sits a Samsung TV screen, displaying photos of shoppers posing on a ski lift and inviting passersby into stores to have their own photos taken.

"How often do you get to star in a luxury store's window display?" Grabel says.

Over the coming weeks, Samsung's Galaxy Gear watch and Note 3 phones will be integrated into the displays, as well its cameras, says Mark Childs, CMO, Samsung Canada. Though Holt Renfrew doesn't carry Samsung's product line, he says the pairing was a natural fit as both brands have a lifestyle and design focus. Ultimately, he hopes having the products in Holt's windows will increase awareness associated with the currently in-market TV campaigns around those products, as well as drive traffic to Samsung.ca where consumers can learn more.

Consumers who use the ski-lift photo booth receive their photos via email (and are also invited to sign up for Holt Renfrew's e-newsletter), and share the pictures over Twitter or Instagram with the hashtag #Mynorthernnoel, tagging Samsung and Holt Renfrew's accounts for a chance to win a prize.

Continuing its techy bent, at Holt's Yorkdale location in Toronto, which doesn't have store-front windows, Montreal-based Moment Factory created 29-foot animated videos. The looped footage, which launches Nov. 12, features a family of four going through the holiday motions, such as Christmas shopping, ice skating and sitting in front of the fire. They've been going back and forth on whether or not to put the content online, Grabel says, as the images are so detailed, that on anything smaller than a 29-foot screen, some of the nuances may be lost.

On a tour of the Bloor Street location, Grabel points out how the vintage theme pervades the store: a wooden moose; fake grey and wood panelling covers the fixtures; and a three-storey ski-lift with glitzed-out mannequins shoots out fake snow every few minutes. The brand will also host themed events for customers, such as knitting circles, paint-by-numbers days and gingerbread decorating.

Downstairs, the brand has grouped its holiday gift items together to create a one-stop Christmas shop for trinkets and baubles, divided by recipient (such as hostess, men and kids), with many vintage-themed accessories dotting the natural wood tables.

Holts has also dedicated more floor space to its expanded private label food line, which includes sweet and savoury items packaged in a similar retro theme. The gourmet teas, nut mixes, cookies and other food-gifts that retail for $8 to $47 apiece, are something Holt Renfrew has carried in the past, but this is its most extensive collection. Grabel adds, depending on the success of the line, it is something they'd consider carrying year-round.

"Last year we had the holiday shops scattered throughout [the stores]," she says. "But this year we wanted a destination for 'Northern Noel.' It makes it easier for people to come and grab a few gifts."