Agencies Y&R and KBS+ land BMO accounts
The former shop will lead the bank's brand and retail business, while the latter will oversee marketing for its wealth management division.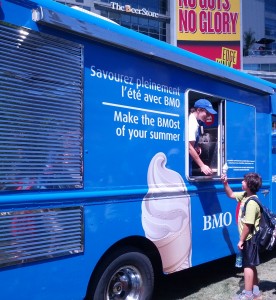 Nearly two months to the day after BMO put its account into review (which in part led its then-AOR Cossette to resign the business), the bank announces Y&R as its new lead agency. The shop's teams in Toronto, Chicago and New York will oversee the brand and retail business for BMO across North America, according to a statement released by the agency.
The agency had the advantage of developing a relationship with the bank prior to the fall account review. Y&R had worked on projects for BMO in the past, including the "BMost of Summer" campaign. And going forward, the agency will create integrated brand and retail marketing for the bank, with the first piece of creative expected to arrive in Q1 of 2014.
"Throughout the review process and in our experience working with them in the past, Y&R has consistently demonstrated superior strategic thinking, presenting thoughtful insights which have been closely aligned to BMO's vision, brand and strategy," said Joanna Rotenberg, CMO and head of strategy, BMO Financial Group, in the release.
In the account reshuffle, BMO also awarded a piece of its business to agency KBS+. The shop's Toronto office will now lead all integrated advertising for the bank's wealth management division, according to a release issued by the agency the same day. Rotenberg stated the agency won the business as a result of its "unique strengths related to wealth management."
"Having grown up in Montreal, it's a special thrill to be partnering with BMO as they continue to expand and grow globally," said Lori Senecal, chairman and CEO of KBS+.