Data: the online currency
Microsoft's Alyson Gausby on finding the fair price for consumers' data.
By Alyson Gausby
Our relationship with technology is maturing – we're moving out of our honeymoon infatuation and settling into the demands of married life. In Microsoft's new Digital Trends research, we look at how consumers' expectations, behaviours and attitudes towards their devices, apps and brands are all evolving.
Data, we've found, is the new currency of online life, and it's valuable both to brands and consumers.
Put yourself in the consumers' shoes. When was the last time you saw something you'd abandoned in an online cart "magically" appear on your screen? As ads and targeted communications fill our screens, consumers are increasingly aware that what they do online is worth a lot. They're now considering the value of their data and want more ways to control who sees it – over a third of online Canadians know their information is valuable to marketers and nearly half (45%) show interest in exchanging data for rewards.
This past June, artist Federico Zannier set out to get his cut of the ad industry with his Kickstarter project, A Bite of Me. Tracking his own data, Zannier offered bundles of his data logs (including GPS location, personal messages and minute-by minute screenshots of his web-browsing activity) starting at $2 per day. Bigger contributors got more information. While Zannier's approach seems extreme, it isn't as extraordinary as you might think – 32% of Canadians say they'd be willing to sell ALL their digital data to the right brand at the right price. But, we're not quite there yet. While Facebook estimates personal data is worth less than $10 in ad revenue per year, the average Canadian's asking price is over $2,000.
Consumers aren't just interested in monetary returns though: they also want a fairer deal for existing experiences. The pay off for brands engaging in these reciprocal relationships can be great – over half of Canadians (53%) are more likely to buy from brands that reward us for using our information.
Our own data can be helpful for us too. Self-quantification has been a significant trend over the past few years and we're now gathering more information than ever via phones and fitness wearables, on more aspects of our lives (from exercise, sleep and spending to quantified measures of our moods).
Nearly one-third of Canadians currently track their own data, but only half do anything with it. Where we've previously tracked aspects of our lives just for our own interest, apps are beginning to learn from each other, pulling together disparate data streams and arriving at intelligent insights. Do I run better after a good night's sleep? Am I spending more when I feel low? How does nutrition affect my exercise? (Unfortunately for me, these insights mean it'll be harder to rationalize that extra cupcake.)
This trend will grow with younger generations – 53% of Canadians 18 to 24 years old are interested in continuously analyzing their data using devices implanted in the body. Brands now have the chance to help consumers transform their lives with meaningful and useful services. Sports brands like Nike and Climbax already offer devices that track and analyze performance. But, this trend extends well beyond fitness – services like Lift help users track their own daily habits, whether it's meditation, diet, or internet-addiction and visualizes them so users can set personal goals.
Today, 46% of Canadians are more likely to buy products/services from brands that helps us identify how we can make life improvements. So, start thinking how your brand can usefully and intelligently aggregate different data streams (even from competitors) and provide interfaces that help us easily draw actionable insights.
There is an opportunity as well, for brands to take the lead in educating customers about the value of their data and how it could be used. In the longer term, companies will need to give consumers new ways to store and exchange data. Brands should build data brokerage into online products and services as soon as possible to be ready for these changes. For example, today supermarkets provide you with rewards through vouchers and offers for letting them track what you are buying every time you visit the store.
What if your local bank stored your personal digital data in a secure locker and your financial advisor became your data broker who represents your interests and ensures you gain the maximum rewards for exchanging your data for various products and services?
Technology can become our trusted lifelong partner, provided we set some ground rules.  In the end, all we're askin' for is a little respect. The successful brands of tomorrow will use our data to engage us in more rewarding, mutually beneficial relationships and help us improve our lives.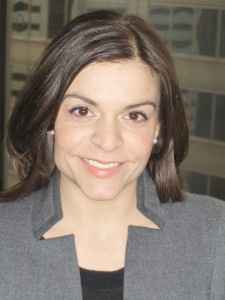 As Microsoft's Canadian insights lead, Alyson Gausby is responsible for translating consumer intelligence into trends research to provide value for the Canadian marketplace.  Advertising.microsoft.ca 

Image courtesy of Shutterstock.