The NBA plays digital ball
Montreal's Float4 multimedia bonanza for the All-Star game included more than 100 video segments and an interactive sphere.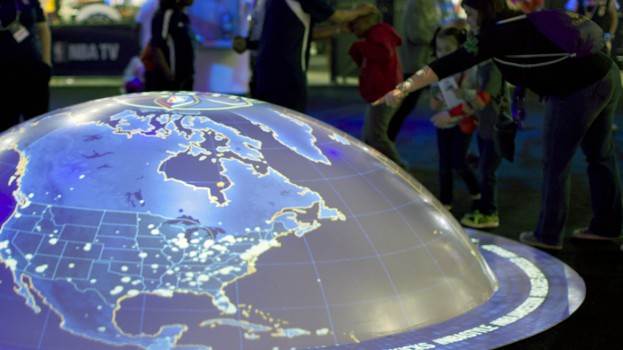 During last weekend's NBA all-star game hoopla, visitors to the 5,600 sq. ft fan zone, NBA All-Star Jam Session, were greeted by large scale digital installations from NBA Digital and Montreal-based Float4, a creative tech studio that designs and produces interactive experiences in the fields of entertainment, advertising, design and architecture . This included a 70-foot immersive screen that displayed more than 100 video segments, an interactive sphere displaying tweets from around the world in real-time and a 400 square foot interactive LED sreen that integrated Twitter and Instagram content to create an interactive experience that, judging from the pictures, scored well with fans.

Credits:

Brand: NBA Digital
Agency: Float4
Content production (VFX & Motion design): in collaboration with Boogie Studio
Scenography and creative direction: in collaboration with Mateo Mounier
Sound design: Boogie Studio
AV integration: OSA International, Inc.