Softsoap launches a flu tracker
The soap brand maps influenza hot spots to encourage handwashing.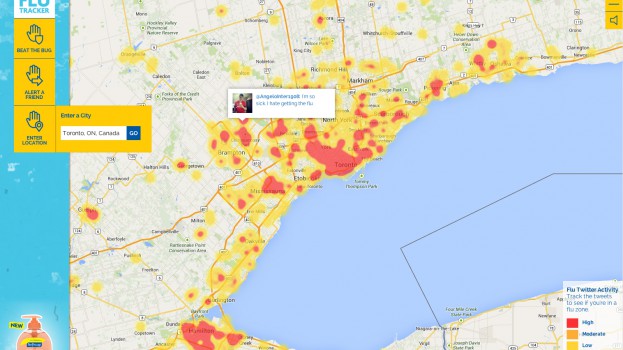 Softsoap has launched its Flu Tracker website, which allows users to trace mentions of the virus in their neighbourhood, facts and tips to stay healthy, according to a release.

The site, which is mobile-ready and offers a viral coupon for antibacterial soap, is "designed as a one-stop online resource centre for combating infectious disease." It tracks social media mentions of the flu, plots it on Google Maps and allows users to share information through to friends in areas considered to be "high-risk" for contracting the virus. It also features information to reduce exposure to the flu and its transmission with tips on hand-washing and hand hygiene.

The media buy taps into areas where the virus can be found such as keyboards, close proximity spaces and doorknobs, and is being promoted with online banner ads, elevator wraps, doorknob hangers, TSAs and in busy areas.

The insight for the tracker and the soap brand comes from the fact that 95% of Canadians don't properly wash their hands, said Lisa de Caires, marketing manager, Colgate-Palmolive, in a release. "Clean hands means less chance of getting flu," she said.

As brands try and break through the clutter, companies are increasingly turning to highly functional platforms, and starting to eschew snazzy and dazzling tech that wows, a trend Kevin Sutherland, creative technology director, Sid Lee (which didn't work on the creative) highlighted last month.