Interaxon's mind games
The brainwave-sensing headband maker has already partnered with Microsoft for games you can control with your mind.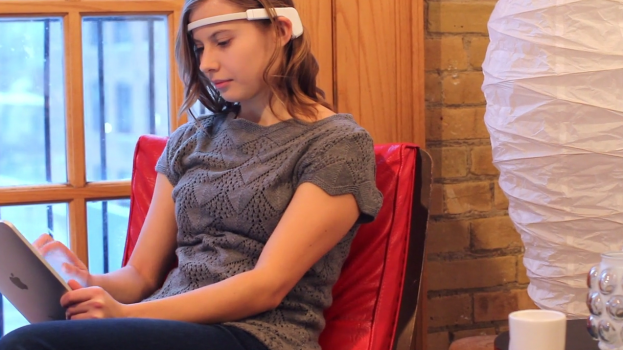 With consumer shipment starting in May, Toronto-based Interaxon's Muse headband is poised to make headlines.

The band is one of the first consumer-facing brainwave-sensing devices on the market, and Tracy Chong, EVP marketing at the startup, has big hopes for its future.

"Imagine a future where we can tell [when you're in] a heightened state and the lights and temperature change when you walk in the door based on your level of stress," she says.

Unlike most startups in the wearable space, Interaxon is working internally to create apps because of the sophistication involved in creating an app that can read brainwaves, which means the space won't be very robust… yet, anyway.

In fact, as of right now, there is only one app for Muse, which encourages people to calm down when their brains are overstressed or focus when their minds are wandering.

Chong likens the mind to a classroom full of four-year-olds on sugar. Muse is like the teacher, teaching people to calm their minds.

"Most people want to be able to move things with their minds or control a cursor, but that technology is maybe five, 10 years down the road," Chong says. "Right now, the only way we can start to get people set up for that is for people to learn to calm their minds."

In other words, in order for mind-reading tech to catch on, first we need to teach our brains to calm down.

That's not to say they aren't developing further capabilities, she says. Interaxon is working with developers and neuroscientists to explore other functions and uses. And it has also worked with agencies to get the device out to the masses.

This work includes a push with Microsoft for the November launch of its Halo 4 game. As part of a greater demonstration at Yonge-Dundas Square, the brand and Interaxon set up shop with a game that needed to be controlled with the player's mind. The challenge was to keep a ball of light contained – requiring lots of concentration.

It also worked recently with Mill Street Brewery to create a beer tap controlled with the brain.

Chong adds they're also working with a number of agencies right now for similar stunt-based executions, though she couldn't share details at press time.

Though much of Muse's presales will occur online, she says they've been in conversation with a number of retailers, especially from high-end, to potentially carry the line. However, at this time, Interaxon has been hunting for partners whose core shopper matches Muse's target demo of  "seekers," or people actively hunting to improve their lives. Further, she's looking for retail spaces that encourage lingering and trial because this is the type of device people have to play with to want to buy.

Closer to launch, she says it'll kick off a big campaign with heavy emphasis on PR, trial and online ads.