Weetabix reintroduces itself
The brand launches its first national campaign in more than 30 years, positioning itself as an energy provider.
If you think you haven't heard much about Cobourg, Ont.-based Weetabix recently, you'd be right. It's been more than 30 years since the company ran a national ad campaign in Canada, despite its 50-year history here.
The cereal brand, easily identifiable by its oval-shaped biscuits, hasn't changed in that time, but with healthy eating top-of-mind with many consumers today, its low in sugar and fat, high-in-fibre offering seems ripe to resonate with cereal buyers and help it grow its small share of the declining cereal category.
So the brand has launched a new campaign, "You Are What You Weetabix," that seeks to capitalize on its appeal as a healthy breakfast that provides energy through the day, and its target demo of male and female adults who are "nutritionally savvy" and "the type that read the label on the cereal box," says Sheldon Gasee, senior brand manager, North America at Weetabix.
"One thing we know is we haven't spoken to consumers in such a long time, in their mind's eye they still perceive us as bland and boring," Gasee says. "Our challenge right now is how do we rejuvenate the brand in their eyes, to say it's not their grandmother's cereal, but a cereal relevant to me."
With creative by the brand's new AOR Toronto-based MonkWilliams, the national, year-long campaign is driven by ads in lifestyle magazines such as Chatelaine, Best Health and Canadian Health and Lifestyle. The creative makes the nutrition facts panel on the side of a Weetabix box the hero, replacing the text where you'd usually see the percentage of calories, sodium and vitamins in the cereal with things that make up a person's day-to-day routine.
A social media campaign will build on the idea, with MonkWilliams and Blueband digital managing the brand's Facebook and Twitter pages. Weetabix has also partnered with CityTV, CHFI and Kiss 92.5 for morning shows, including a contest on CityTV asking people to submit a form saying how they use their morning energy for a chance to win a $5,000 trip. The campaign also includes in-store, shelf creative and free standing inserts are being sent to eight million households across Canada.
"The origin for the idea for me, was, what are you made of?" says Brad Monk, partner at the boutique agency. "It's a very compelling question, because it can mean ingredients, but I'm also made of things that my dad told me, or what my kids make me do every morning to get out of bed.
"It's a wonderful combo of emotion and hard-working storytelling through the brand, and starting with 'what are you made of' got us to this notion of 'You Are What You Weetabix.'"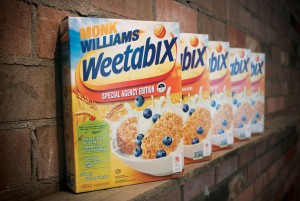 The brand hopes the push also helps draw in consumers who are increasingly eating on the go at quick service spots like Tim Hortons and Starbucks, or are drawn to breakfast alternatives like Mondelez-owned belVita breakfast biscuits.

The national campaign follows up a Maritime-specific push in 2013, with agency Hunter Straker, that included radio, OOH and in store, and saw 80% unit growth in the region, Gasee says.

"That proved to us that we could grow this brand effectively with the right message and creative."