Smart fashion
CuteCircuit's LED- and sensor-infused duds are lighting up the runway.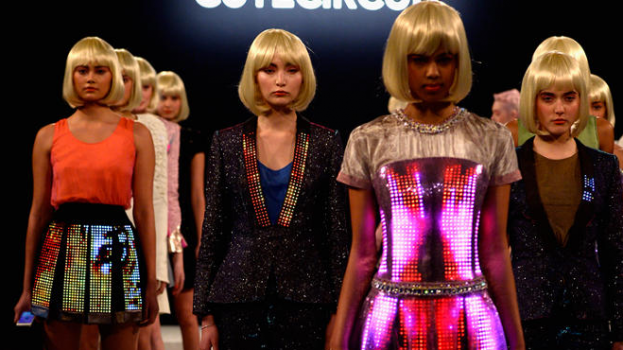 Normcore, meet your step-sister trend, Nerdcore. To your relief, she's everything you're not and most delighted to steal the limelight you've, ironically, been trying to evade.

The parents of this geek-chic clothing trend are Francesca Rosella and Ryan Genz of London's CuteCircuit, and they've been (literally) lighting up the runway with their tech textiles since 2004. Past designs have included a kinetic dress (which is embedded with sensors that turn the garment into a mood ring of sorts) and an evening gown that pulls in tweets in real time.

In 2010, the haute-couture LED- and sensor-infused clothing line branched out to create a ready-to-wear line that includes items like a shirt that hugs over distances (which is embedded with sensors that simulate a hug, which you can send via an app) or cocktail attire that sparkles and glows.

Most recently the brand took to New York's Mercedez Benz Fashion week to debut some new looks.

But we're still undecided as to whether Normcore or Nerdcore claims the ugly step-sister title though. Shall we toss a coin?