Tales from the trenches
Think travelling for ad shoots is all production swag and cocktails from the beach? Lyranda Martin-Evans sets you straight.
Like finding love on The Bachelor, your career in advertising is a journey. Sometimes, that's metaphorical, like your journey from intern to in charge. Other times, it's an actual trip to shoot a commercial. KBS+'s Lyranda Martin-Evans takes us on such a journey on her latest production abroad, proving it's not always craft service on the beach. Sometimes, you get a gun to your head.
By Lyranda Martin-Evans
When it comes to shooting a commercial outside the country, sometimes you stay at the Viceroy in Santa Monica, Instagram the production house picking up an outrageous tab, tag it  #advertisinglife and everyone unfollows you. Other times, you shoot in a developing country on a limited budget. It's for a wonderful charity, so you don't mind – in fact you welcome it and feel so grateful for all the people who donated so much time, money and heart into making it happen. But, you know, weird stuff goes down.
We flew into Mexico City, a bursting metropolis built on a sinking valley because someone saw an eagle eating a snake there once, according to our chaperon, Juan Pablo.
Juan Pablo: Listen, I will drive you to everywhere. Don't take any taxi. You might not come back.
Me: Yes, I will accept this rose!
Juan Pablo: (blank stare)
I actually never felt unsafe in Mexico City, as we were staying in the trendy area of Condesa, which is very walkable and filled with hipsters. You can't conceal a weapon in super-tight skinny jeans, right? The only time I felt kind of not awesome was while walking alone at night to get Imodium for my AD, who fell down half dead with dysentery and pledged never to eat ceviche again. Thanks to Google Translate and my creative use of mime, I was able to communicate with the teenage pharmacist at 7-11, but just as I was about to pay, the power went out. No one seemed phased. So then I had to wander IN THE DARK through the streets of Mexico, and still couldn't get any poo pills. I did manage to find Gatorade, and thankfully our account director texted to say she had managed to locate something that was probably going to work but might also be laced with morphine. Key learning: always pack a Ziploc bag full of pharmaceuticals when working abroad.
Halfway through our trip, we jumped on a regional plane and flew to a tiny town in the state of Tabasco. The point of flying to this remote location was to shoot in the jungle. We were told to wear long pants and were given giant rubber boots because of the poisonous everything. Our director of photography, flown in from L.A. fresh from his latest shoot with Beyoncé, was super pumped about the jumping spiders because he suffers from crippling arachnophobia.
We had just gotten a few shots in when suddenly 20 men dressed in black charged through the trees screaming in Spanish, surrounding us with M-16s. I've never seen an assault rifle before, let alone drawn and charging toward me. As we were being surrounded, I dug my nails into my AD's skin so hard he still has marks, our agency producer threw our account director in front of her as a human shield and our director whispered he was going to flee into the jungle because he spent three days in a prison in Ghana and was not going back, thank you very much.
This legit happened. We were shooting a PSA that involved prop guns, and it turns out the Mexican police thought they were real. Yep, the police were coming to rescue us from the militia, not the other way around. The police were actually there to protect us, but good thing our main actor immediately dropped his plastic gun and raised his hands in surrender or they may have blown his head off. Back to ones people, we're losing our light!
At our wrap party, over cups overflowing with Mezcal, we agreed it was great no one died. Then we ate more things made with corn and felt a little nostalgic that our time was coming to an end. Mexico was an incredible adventure in advertising, working with wildly talented, generous, dedicated people. I would shoot there again in a heartbeat. As long as no one shoots me.
But I'm still a little bummed Juan Pablo never gave me a rose.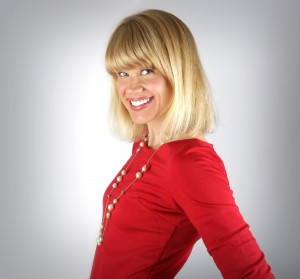 Lyranda Martin-Evans is  a creative director at KBS+. She's also a co-author of the bestselling humour book, Reasons Mommy Drinks (Random House 2013). 

If you've got an epic tale from the trench, send us a line.