CJFE's explosive campaign
The NGO and Juniper Park are promoting the Review of Free Expression in Canada with an online video and poster.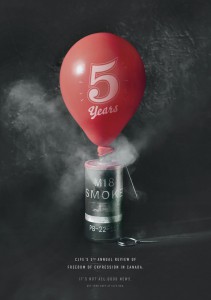 It's a bittersweet birthday party of sorts for Canadian Journalists For Free Expression (CJFE) as it puts out its fifth annual review.

So to mark the occasion, the Toronto-based, non-profit NGO and agency Juniper Park have created a video and poster that puts things in perspective, with the tagline "It's not all good news" and a powerful image of a balloon – an item normally associated with birthday celebrations – being filled up to the bursting point by a smoke grenade.

"The image is a metaphor… that it's a bittersweet celebration," says Tom Henheffer, CJFE's executive director. "It's great we have this review for the fifth time, we are proud of the publication, but at the same time, we wish that we didn't have to report on all these problems."

Targeted at anyone with a vested interest in journalism and media work, the campaign for the Review of Free Expression in Canada goes live today ahead of World Press Freedom Day on May 3. The poster will live on the NGO's website, Facebook page and Twitter feed, and be emailed to subscribers, while the video will be posted to CJFE's YouTube channel and promoted via Facebook and Twitter.

The review, which covers issues such as the state of the access to information system and whistle-blower protection in Canada, is being released on Wednesday.