Krush: a social shopping platform
The Pinterest-style app for action sports fans lets brands make user-posted content shoppable.
A few years back, when U.S.-based venture capital firm Raptor Ventures first launched Krush, a mobile app for sharing photos of products for the street, skate, surf and snow crowd with fellow action sports peers, the company believed there was a gap in the market. There really weren't many online lifestyle portals that singularly catered to this extreme spot segment, and although Krush was able to fill the void, consumers didn't seem to take much notice.
"It didn't really take off, mostly because of the end-user experience," says Dave Gillis, partner at Toronto-based Teehan + Lax, which was approached in spring 2013 to gut and reboot the project, recreate its visual identity and essentially build a whole new platform.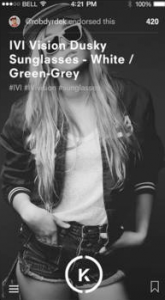 Today, the app provides a social shopping experience for more than 35,000 users. It's a place where people can upload (via phone/camera/desktop/web) images of items they're interested in or inspired by to their profile, and where others can "endorse" the product in the image to have it appear on their own page. By endorsing content posted by retailers, users can work toward store discounts or app badges, which let people know they're a "rep" or "promoter" for the brand.
Think of Krush as the Pinterest for skateboarders, snowboarders and every other sports enthusiast in between, except instead of pinning inspiration items, they're endorsing products from retailers. And instead of wanting, they can actually have, as most of the content that's posted on the site is shoppable.
"Rather than taking a standard e-commerce platform and layering in social tools on top of that, which we've all used and seen before, the idea was to do the inverse of that," notes Gillis. "We started with a social network and then layered e-commerce on top of that."
Right now, the app is free-of-charge for brands to use. When they sign up, they have access to the Krush dashboard, which is an admin space for them to curate collections and efficiently upload content in batches to their "app storefront" (or Krush profile). The dashboard also enables brands to search for content uploaded by other users with their products tagged, and essentially "claim" the item and make it shoppable by adding SKU data.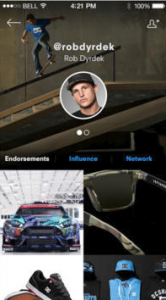 "[A brand's profile] looks a lot like a regular user's profile, and that was intentional, because we wanted brands to be seen as participants and not just fixtures," he adds.

"The people who are in this scene…the stores that they go to tend to be gathering spaces where they can connect. Even the larger stores like the MECs and REIs of the world, and the smaller shops, they all have that in common. But then, when you compare that to their online shopping experience, none of that translates over, there really isn't an acknowledgement of this lifestyle."

Gillis believes Krush acts as more than a functional online catalogue, providing an emotional component, as users can express themselves by creating a profile that's filled with products and brands they're into. "The core was to put together a product that has a reason for existing beyond just shopping," he adds.

Top featured image posted by @sidunham on Krush