Postmedia unveils 're-imagined' Ottawa Citizen
The publisher is rolling out its four-platform strategy with new apps featuring custom-tailored content.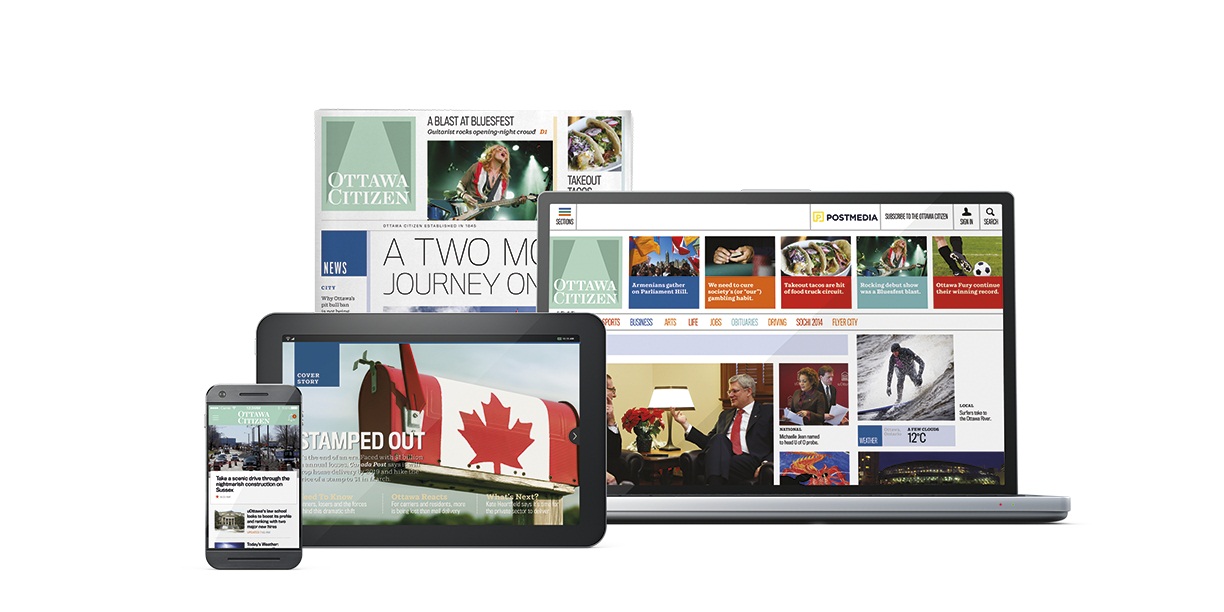 After several years of planning, designing and reorganizing, Postmedia is unveiling a new slate of news products for the Ottawa Citizen to address the needs and behaviours of users across different devices and demographics.

In addition to a redesigned newspaper and website bearing the elements of what will become a common design across Postmedia titles nationwide, the news outlet is debuting distinct apps for smartphones and tablets. Today's relaunch of the Ottawa Citizen is the first in a series the company has dubbed "Postmedia re-imagined." Similar products will be unveiled for seven more Postmedia papers over the next 12 to 15 months.

Wayne Parrish, COO at Postmedia and a team of senior executives at the company who were responsible for the development presented the outlet's new "four platform" strategy to MiC at a preview earlier this month.

The print edition of the Ottawa Citizen has been redesigned, with a new colour-coded system across its different sections. The content of the print newspaper essentially remains the same and targets readers with a mean age of 51 who gather news in the morning as part of a routine. The redesign introduces a new ad unit called the sliver, a narrow band that runs across the width of the front page just below the fold.

The title's new responsive design website, targeting a mean age of 47, will serve as the Citizen's digital hub, where search-driven audiences will be able to find virtually everything the outlet produces.

The new free smartphone app features a feed of local stories with conversational headlines that reveal more about the significance of each story at first glance than traditional print and digital headlines. Targeted at readers with a mean age of 28, the app is designed for skimming as the audience collects news throughout the day. Users navigate through stories by swiping up and down through pages, as opposed to a single long scroll, with each page featuring short blocks of text under a heading, an image, infographic or video. Readers can swipe to the side to get to the next story, or go back to the menu to peruse the feed. Interstitial ads appear as readers swipe between stories.

Targeting a highly educated and affluent audience with a mean age of 41, the magazine-like tablet edition will be released at 6 p.m. on weekdays, when tablet engagement is highest, serving analysis and context for the day's news as well as interactive features taking advantage of the tablet's array of functions. Postmedia offered examples of features like a photo gallery accompanied by audio narration, shortform documentary films and a live "second screen" companion page for Ottawa Senators games with stats, analysis and reaction, as examples of content that will appear on the tablet edition. The app is available as part of the Postmedia Digital Access subscription package, as well as for individual purchase at $1.99 per issue. Ad options are available for both online viewing and embeddable offline viewing.

To support the new products and effectively supply content to the user groups more likely to be engaged with each particular device, national and international stories are being covered by a central Postmedia newsroom, while the Ottawa Citizen newsroom was reorganized to be centered around a single "super city desk." In place of traditional section editors, all local news now flows through "platform champions" who determine how any given story will be covered by each device. The result is four distinct offerings with content that is relevant to the way the devices are used — no more 1,000 word essays served up on your smartphone (unless users want that, then they can find those essays on the responsive design webpage through their mobile browser).

To guide those decisions, Postmedia developed a series of user profiles, groups of demographic data compiled into helpful avatars with names like Carl, to humanize the audience on the other end of the devices. Journalists and editors are made to think, "Is this a story Carl would be interested in? What part of the story would Carl be interested in? How and when is Carl likely to come across it?"

In turn, Postmedia  is shifting its advertising sales strategy away from selling by brand, product and platform and towards selling by audiences across its entire network, Parrish says, adding that while content will be created with certain demographics in mind, the audiences will in reality be much broader.

To promote this new offering, Postmedia worked with PHD and Sid Lee on a new campaign that will roll out across digital, OOH and print in the respective cities as the new offerings launch. The campaign picks on the theme "Trending since…" highlighting the brand's new forward-thinking approach to news, particularly in the digital sphere, and its staid history. It will run for eight weeks and will be picked up in new markets as the roll out moves forward.