Eighteen more shortlist mentions for Canada
The Cannes shortlists for Outdoor, Media, Mobile and Press are out, with zero mention of Canadian work in the latter category.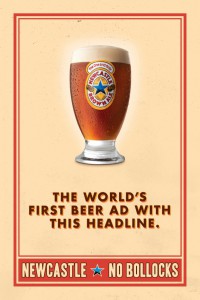 As the second day of the Cannes Lions fest rolls in, so does another batch of shortlists with plenty of Canadian agencies and brands showing up in the Mobile, Media and Outdoor lists.
There was, however, a disappointing no-show on Canada's part in the Press list (the lack of award-worthy press work was called out by Michael Murray at Blammo in strategy's Cannes contenders series, saying: "As a CD, I share some responsibility…But the truth is, I couldn't find a print ad with an amazing idea. Nor could I find an execution that used the medium differently.)
Media:
A recurring shortlisted campaign this year, Canadian Tire's "Ice Truck" nabbed two mentions in the Media line-up, with Touche! PHD in contention for this category. The piece was also nominated for a PR Lion on Sunday, with North Strategic leading public relations, Taxi on creative and Fuse Marketing behind construction of the truck. The nominated campaign saw the retailer create a truck made entirely out of ice (except the engine and wheels) to demonstrate its Motomaster Eliminator Battery's ability to withstand extreme winter temperatures.
Another campaign deemed likely to succeed, and also nominated in Promo and Activation, Tourette Syndrome Foundation of Canada's "Surrender Your Say" (which was lead by Saatchi & Saatchi) was also shortlisted for a Media Lion. The campaign invited Twitter users to hand over full control of their accounts to the organization so that they could tweet on their behalf, with each post containing a Tourette tic to demonstrate the ordeal that people with the disorder experience on a daily basis.
A second cause campaign on the list is the Missing Children's Network's "Missing Kids Stamps" campaign by Lowe Roche in Toronto. The campaign involved turning the milk carton concept on its head, placing the faces of missing children on postage stamps. An outdoor installation was created, made up of more than 1,000 of the stamps, which pedestrians were encouraged to peel off to reveal a large portrait of a missing child's face.
Mazda Canada's "Massive Test Drive" campaign, with media by Mindshare and creative by JWT Toronto, was also called out in the Media list for its innovative use of technology in cinemas. The campaign involved the brand using the TimePlay app in Cineplex theatres, and invited people to partake in a massive public test drive with fellow movie-goers using their smartphones to control and race a car on the big screen.
And finally, the "Beer Fridge," created by Rethink Vancouver for Molson Canadian, with MEC Toronto on media, is also shortlisted for a Lion. The execution was another favourite in strategy's Cannes contenders series, and has received multiple national awards for its placement of Molson branded beer fridges in locations around the world. The fridges, which had beer bottles hidden inside, could only be opened with a Canadian passport.
Mobile:
Landing on the mobile list with two mentions, the "Kringl" app by Zulu Alpha Kilo for Make-a-Wish Foundation has a chance at taking home a Lion tonight. The CSR app, which won an AToMiC award this year, was created to keep the spirit of Christmas and Santa alive in youth today. It used augmented reality to show young ones scenes of the Klaus planting presents under the tree in their own home and coming down the chimney, for example.
And the third mention on the mobile shortlist was Ubisoft's "Watch_Dogs Live" campaign, with Publicis Montreal behind creative and PR, while ZenithOptimedia handled media. The 2013 app was used to promote and build excitement for the Watch_Dogs game, which was released earlier this year. Using the app, players were invited to outwit and outperform other hackers by checking into geo-located landmarks in the app (much like Foursquare) to gain rewards and level-up.
Outdoor:
Coming in with an impressive six mentions on the Outdoor shortlist this year, Molson Coors' Newcastle beer ads, created by BBDO in Toronto, has a chance at winning a Lion this evening in Cannes. The ads in contention include:
"We put this ad here so you can look at beer while you wait for the bus."
"We made this beer taste good in 1927. We haven't done much since."
"The world's first beer ad with this headline."
"If you like beer named after a city in England, this is for you." (which received three shortlist mentions)
The Toronto School of Art (which not long ago was close to going out of business if it weren't for investment from Aldo Cundari) is also on the shortlist for it's recent "Pin Art" installation in Toronto, created by Cundari. The installation included over 50,000 pins to recreate a famous pointilism painting by George Seurat.
And in addition to nominations in media, Molson's "Beer Fridge" (by Rethink Vancouver) and Canadian Tire's "Ice Truck" (by Taxi Canada) both received a nod on the outdoor list.