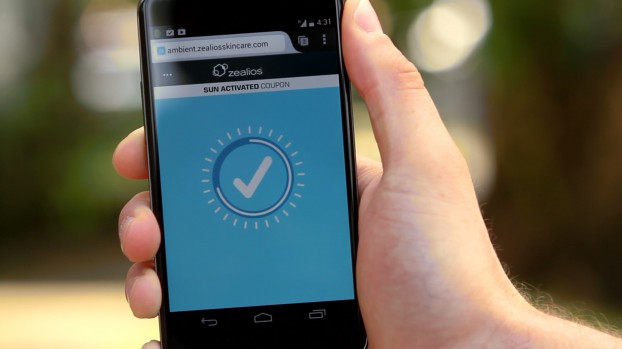 A new app from TBWA\Toronto for California-based skin care company Zealios aims to reward consumers for spending time soaking up some sunshine.
The brand is offering a 50% discount on its Zealios Sun Barrier product, available to order online in the U.S. and Canada. But to get it, you need to be outside with your mobile device.
Utilizing the ambient light sensor built into mobile devices (which are normally used to vary the intensity of a screen display), the browser-based app is activated by the sun, taking people to the brand's online checkout to place their order.
The agency says it's the first time it knows of that the ambient light sensor has been utilized to generate a coupon. The technology is so fresh, it is currently only compatible with Android devices running a Mozilla Firefox browser, though the agency expects other browsers will soon adapt it. In the meantime, a 20% off coupon is being offered to those who can't take advantage of the sun-activated app.
The campaign, which launches today, addresses the brand's target of people who want to live healthy, active lifestyles outdoors, particularly endurance athletes who exercise under bright sunshine for long periods of time. The SPF 45 sunscreen is water-resistant for up to 80 minutes, as well as sweat-resistant, though the brand says it can also be used as a daily sunscreen.
Lucia Mancuso, director of digital and social media at TBWA\Toronto, says the interactive campaign is built to drive trial and get people talking about the product, which has only been on the market for about two years and is available in retail shops concentrated in the San Francisco Bay Area of California.
"It really did achieve everything that we wanted," says Austin Britts, a Zealios co-founder. "We wanted to get this product in people's hands so they could use it, wanted to be playful, interact with technology and have a social media tie-in to it."

Mancuso says the idea started with the creative team wanting to use a smartphone camera's light-value reader to activate an app. That couldn't work, but knowing the ambient light sensor HTML5 application programming interface could be used as part of a responsive web design to automatically switch themes, the shop's development team made a prototype to test. While it will only work on Mozilla Firefox, the team decided to go ahead, believing its tech should automatically work with other browsers as they catch up.
The brand and agency are looking into what else they can do, in the meantime, with ambient light sensors.
"As that technology progresses I think we'll be able to get a lot more exact and be playful with it," says Kevin Fuller, co-founder of Zealios. "If you're outside but it's cloudy, here's a 20% discount, but if you're outside and it's really scorching in the desert, here's a bigger discount."
The app will be promoted through the brand's social channels, word of mouth and a PR push. There is no paid media buy, though TBWA\TO says that may change in time.
You can view the case study for the campaign below.