Virgin Mobile spreads love to get love
To promote its new store, the brand taps into a Toronto neighbourhood's art scene.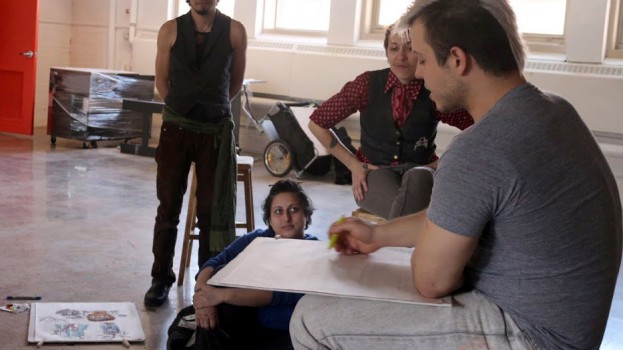 Virgin Mobile is introducing itself to Toronto's Queen West neighbourhood – the locale of its newest store – through a collaboration with a local artist and youth initiative.

Aiming to raise awareness about the new shop and the brand's Re Generation movement, which supports homeless and at-risk youth, Virgin Mobile joined forces with Matthew Del Degan and local youth to craft an 11-by-12-foot mural. Inspired by the artists' views of the Queen Street/Trinity Bellwoods area, it will live at the store, where it is visible from the window, and is slated to be unveiled at the shop's grand opening event Thursday.

"Since Queen West is such a tight-knit community with a creative culture, we wanted to do something to give back to the neighbourhood in a unique way," says Joe Ottorino, managing director, Virgin Mobile Canada. "We also wanted to create opportunities for young local artists to develop their skills while being mentored."

Del Degan, the artist behind the concrete Lovebots placed all over Toronto that promote the notion of community and love, worked with youth from the organization Sketch, a community arts initiative targeting homeless or at-risk young people. Ottorino says the organization's mandate and long-standing community presence was a good fit for the brand's Re Generation movement and resonates with the brand's target consumers.  Moreover, Del Degan's movement around promoting love and kindness tie into the Re Generation program's core values, he adds.

"Being a force for good is part of Virgin's DNA, but it also resonates with our target demographic who, we believe, expect and prefer to engage with brands that are giving back to the community," he says. "With our roots in music, we are passionate about the arts and always target a trendy, urban demographic with our marketing campaigns."

Furthering the feel-good vibes, Del Degan developed Lovebots for the Queen West store as well as a new location near Yonge Street and Eglinton Avenue, but they somewhat differ from the others, which have a number referencing a particular story of love and kindness that can be found online. The customized Virgin Lovebots are white in colour, rather than grey, and although they maintain the number theme, they vary to represent the brand's specific stories of kindness, says Ottorino.

Looking to "spread love through art across Toronto," the initiative targets residents and visitors of the communities that are home to the brand's two newest stores, while the Queen West mural can provide inspiration for passersby, he adds.

PR agency Hill + Knowlton Strategies worked with the brand on the program. The new store is also being supported via social, direct mail and media relations.

Photo by Jonsaba Jabbi.