Awake aims to hit the right note with music fans
Eschewing sports and movies, the caffeinated chocolate bar melts into a new partnership with Universal Music.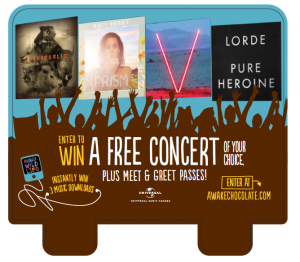 The Canadian candy bar with a caffeine kick is exploring its musical side with a promotion that taps into its new partnership with Universal Music.

Awake Chocolate, described by the brand as "Red Bull meets Hershey," will kick off a campaign next month that offers consumers three free song downloads and the chance to meet an artist or band such as Katy Perry or One Republic. It will be supported by in-store POS with album art from those musicians plus Maroon 5, Lorde and Hedley, directing consumers to Awakechocolate.com, where they submit their email address to enter the contest. Participants will receive an email pin to select three free songs from the Universal Music library.

Awake's bull's eye target is typically university students between 18 and 22, and popular bands were selected that affiliated well with that group, without being overly polarizing, says Matt Schnarr, Awake co-founder.

The brand looked at properties such as movies and sports, but found music to have a more mass appeal to its target, he says.

Moreover, the brand wanted to pick bands that struck a chord with a larger audience as well. Like coffee, Awake is really for anyone who is busy, he says, adding the product does well with mothers.

"You don't generally see coffee being polarizing to one audience or another," he says. "We try to choose promotions and marketing materials that are approachable, that would fit a wider audience. So they're appropriate not only in a gas station, but also in a grocery store."

Awake Chocolate reached out to Universal because of its artist roster, sending over its product, which was well-received and led to discussions about the idea of a meet and greet with a major artist.

Although this is its first formal dip into the music pond, Awake has reached out to artists in the past and managed to secure its product at Conway Recording Studios in Hollywood, after sending it over on the advice of Maroon 5, which enjoyed the product but didn't want to commit to a partnership.

The new campaign will launch across the country in retailers such as Loblaws, Real Canadian Superstore, Overwaitea, Save-On-Foods, Fas Gas Plus, college and university campuses, and Schnarr says the brand aims to continue its relationship with Universal. Awake worked with Seattle-based Tether on its POP, while brand mascot and chief hooting owl Nevil will be active on social, with Universal also pushing the promotion.

The young Canadian brand, which began selling its bars in August of 2012, has grown across North America into approximately 20,000 stores in retailers such as Shoppers Drug Mart, Rexall, and gas stations such as Petro, Esso and Shell. Awake Chocolate is also slated to be available in 2,500 stores on college/university campuses across North America by September. Schnarr cites Nielsen data that points to the bar ranking 19th in grocery, drug and mass based on SPPD data from last year (L52W, ending August 2013).  Last year, the bar tied in the Chocolate category at the National Convenience Stores Distributors Association's Convenience Innovation Awards.

Since hitting market in August 2012, the brand sold about 300,000 units that year, more than two million in 2013 and expects to sell five million this year.