Under the Influence of…High on Life
How a Vancouver YouTube group with 1.1 million followers linked up with Red Bull and built its brand in three short years.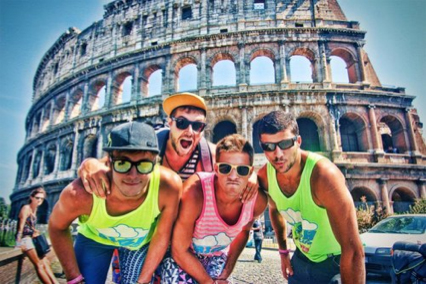 As part of an ongoing series with sister publication Stream, Influicity, a Toronto-based ad tech company that enables brands to work with YouTube's rising stars, is profiling different YouTube content creators. 
These days, we're seeing our favourite YouTubers jump out of the computer screens. Recently, the Teen Choice Awards featured multiple nomination categories for YouTube stars, and we're seeing various mainstream collaborations happening all around us.
One YouTube group, Vancouver-based High On Life, is a prime example. With a large and loyal social media following, the guys have branched out with their own clothing line. The group operates on YouTube (founded in 2011), Facebook and Twitter as "SundayFundayz," taking the moniker of High on Life on Instagram. Influicity spoke with Ryker Gamble, one of the group's members.
Name: Alexey Lyakh, Parker Heuser, Ryker Gamble, Max Gatfield (pictured L-R). This is the core group, although Gatfield has left for a 9-5. Ben Czegeny and Arjun Malik help out with merch and other forms of entertainment.
YouTube channel: SundayFundayz
Category: Comedy
Total Reach: 1,128,910
Influicity Score: 71*
How did your group get its start?
I met my business partners and friends in Grade 8. At the time we were heavily influenced by daredevil shows like Jackass, so we would spend most of our time using a Handycam acting wild and reckless. Gradually we started editing and perfecting our clips, making our videos on a daily basis, and when YouTube came along, we jumped for the opportunity to make our mark on the web. In 2013 we launched our clothing site and our fans were buying merch like hotcakes!
Have you done any brand collaborations?
We linked up with Red Bull Canada in 2013 and became brand OPLs (opinion leaders). We'd get invited to all the cool events that would go on in our city, and if we were ever abroad, could connect with the country's local office and get hooked up with the events happening over there. We made several videos with Red Bull, my favourite was from Red Bull Flugtag, an event where 32 hand-picked teams built flying crafts and pushed them off a 10-metre tall platform into the Gatineau lake in Quebec hoping they would fly.
Where do your fans come from?
The traffic comes from various sources and demographics across all our social media platforms. YouTube is 65% male and predominantly in the States, along with Canada, South Korea, and the U.K. Our Flickr account gets over 40,000 views a month, and similarly to our Twitter, the demographic is predominantly female. Vine on the other hand, has a very young user base, where most of our 190,000 followers are boys in their teens.
Why do you think you stand out from the other brands?
We're relatable and people enjoy our various forms of expression. Our energy is positive and the elements that started this whole thing are based on friendship, adventure and a video camera. We push a certain lifestyle, with the focus of inspiring others to embrace all of life's opportunities with the same attitude.
What is a challenge you've faced growing your online presence?

I think the biggest challenge for us has been the acceptance of this kind of lifestyle. All of our friends from high school work 9-5 jobs and get two to three weeks off a year. We, on the other hand, created a lifestyle that is based primarily on experience and the act of manifesting any and all of our dreams by supporting each other and being extremely creative with our approach.

Where do you hope to be with your brand in a few years from now?

In a few years we want our brand to be a platform that provides entertainment, adventure and fun for our audience as well as the tools to help others achieve their dreams. Our big goal is to own a space where content creators like ourselves can network, collaborate, produce and learn the steps to achieving what we have.

*Used by clients when formulating pricing, the Influicity score takes into account YouTube subscribers, average views per video, comments, likes, and the quality of the subscriber accounts. This information is blended with data from Klout.com and Kred.com to produce a score between 1 and 100.