Magical mops and moments
Check out the latest optical illusion from the Festival de magie de Québec and Lg2.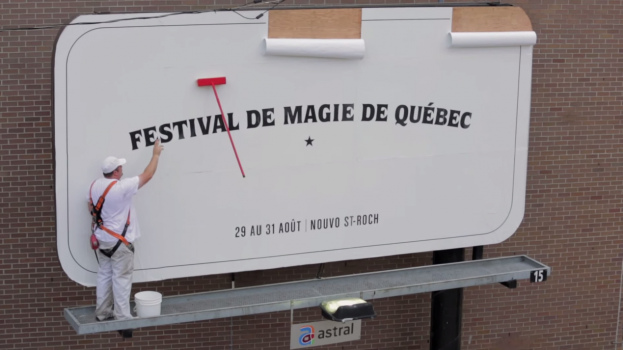 With shiny personal devices distracting consumers as they walk the street, some might argue that brands have to produce magic to get a reaction (even if that's just a mere glance) from consumers. Ahead of Quebec's magic festival (Festival de magie de Québec) this past weekend, the organizers and agency Lg2 pulled some tricks out of their bag to make it appear as though a billboard cleaner was mopping things up through the power of his mind. We just wish we could make this happen in our kitchen.

This isn't the first time the pair have pulled off this sleight of hand. Last year, they took over a bus shelter, installing balls in the windows that levitated when people lifted their hands.

In 2012, they set up a disappearing act. Setting up giant screens that displayed people walking by, the agency pre-filmed a pair of actors acting out in front of the screens. It then played the tape when someone else walked past, giving the illusion that the passerby wasn't appearing on screen.

Finally, in 2011, the duo set up a "magical" billboard, with a top hat placed atop the screen, with a never-ending stream of pigeons flying out.

From stimulant.