Wilbur Mexicana shuns sombreros
This new fast-casual restaurant ditches the stereotypes and finds a muse in science.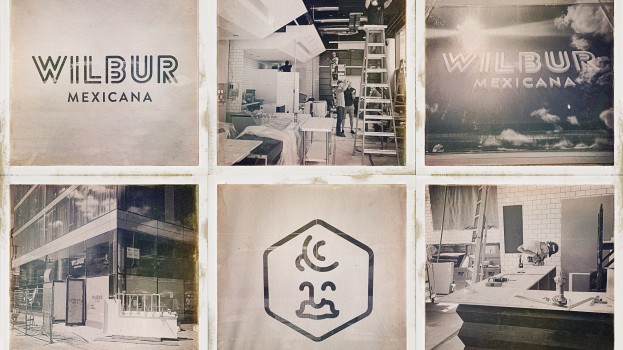 There'll be no pinatas or other stereotypical Mexican decorations at Wilbur Mexicana.

Instead, the Mexican restaurant in downtown Toronto will take its cues from chemistry, says Mikey Richardson, partner at Jacknife Design, the agency that worked on the identity for the brand. Specifically, it takes inspiration from pharmacist and the restaurant's namesake Wilbur Scoville, creator of the Scoville Scale that's used for measuring the levels of spice in chili peppers.

Part of the reason the name works is that no one wanted the restaurant to try and emulate an authentic Mexican experience," Richardson says. "The guys starting this didn't want to fake anything. This is a Canadian downtown take on Mexican."

As such, the restaurant's primary icon is a moustachioed caricature face of a professor inside of a hexagon, a hat tip to Scoville. That symbol, all in black and set against a yellow backdrop, will welcome guests and find its place on in-store signage, food and beverage containers or employee uniforms, Richardson says.

The brand chose to use a bold yellow and black dominant colour scheme throughout to show its confidence, he adds, but it allows for softer colour combinations as well.

The professor character will be carried through in other design elements of the space, including a "simplified" Scoville Scale that shows the caricature in increasing levels of distress at each level of heat (at 0-500 heat units he's smiling but at 350,000-577,000 his eyes have become Xs).

Meanwhile, expect a clean, minimalist aesthetic throughout the soon-to-be-open venue from owners Will Cumberland, Baird Cumberland and Stephen Chan.

Catering to a younger, affluent crowd, the fast-casual restaurant wants to emphasize the freshness and quality of its food and appeal to an urban, social crowd that lives and works in the King Street West area just east of Portland Street, Richardson says.

"[Brands] are trying to crack that golden opportunity of fast and healthy food," Richardson says. "People are tired of getting burgers and subs when they need food quickly. I also think a lot of consumers' taste buds are evolving and people demand higher-quality food as well."

Richardson says the restaurant has been relying on word of mouth and the food trade press to build buzz so far but plans to launch a campaign once it opens its doors.