Nordstrom's test-and-learn marketing approach
Get a peek into the luxury retailer's Canadian marcom strategy from "ground zero" in Calgary.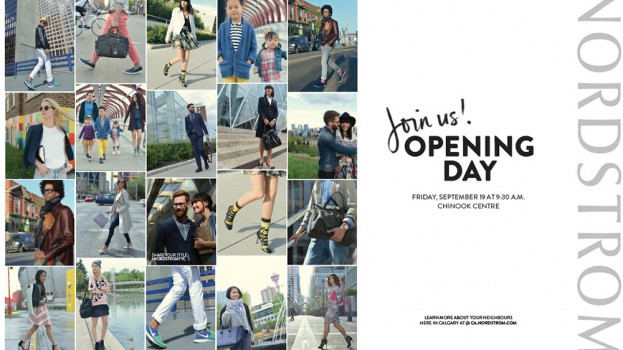 More than 100 years ago, John Nordstrom opened up a shoe store in Seattle. Twenty-two years later, he would go on to open a second location. In the 1960s, Nordstrom branched out from shoes to offer women's, men's and children's clothing, and then went public and opened a clearance location in the '70s. And this Friday marks the next phase in the luxury retailer's evolution when its first international store is set to open in Calgary, marking the 118th location.

The brand, working with DDB on strategic direction (with Nordstrom handling the execution), has been active in the Calgary community with a campaign emphasizing the locals. "Calgary, we like your style," is currently in market and is designed to drive up awareness for the brand, using local landmarks and even citizens to display its wares (the brand dressed folks with clothes from their own closets for the shoot), says Kristen Lamey, VP marketing at the retailer.

The brand made waves in 2012 when it announced its Canadian expansion plans, promising to unveil a handful of new location and clearance stores (Nordstrom Rack) on the heels of Target's impending arrival. However, Target's push into the Canadian market, with 124 locations, faltered, and Nordstrom took a step back and slowed its approach. Now, it's opening six stores over the next two years, starting with a single location, as opposed to an all-at-once blitz, à la Target.

The Canadian creative is a different approach than what Nordstrom might do in the States, Lamey says. Canadian consumers have a much lower awareness rate of the brand than in the U.S., so it is starting from "ground zero" to educate people north of the border.

Marketing – handled out of Seattle – is hyper focused on the Calgary market, Lamey says, and is all about embracing who Calgarians are. As the brand moves into the holiday period, advertising will likely shift towards product-marketing to help spread the word about what's actually available in stores.

Calgary is a test market for the brand, and it will apply learnings from Cowtown when it expands to Ottawa in the early spring. "We really do listen to what customers have to say and we really hope we've thought this through," she says. "But if we miss, and we might, we'll certainly course correct and improve [for our next market.]"

As the brand continues forward and awareness grows, more of a focus will be placed on product offering, she says, though maintaining brand campaigns will be important as well as they are becoming more prevalent in its marketing mix in the U.S. Brand-building campaigns are newer for Nordstrom, she adds, and are something they only undertook in the States a few years ago.

"We realized we were quite well-versed in speaking with our current and most loyal customers," Lamey says. "We do a lot of catalogue marketing, we have a loyalty program our customers are really engaged with. But, like any company, we realized we need to keep new customers coming through the door and at the same time retaining and engaging the customers we already have."

For example, the brand recently tasked DDB with creating a new masterbrand campaign around shoes to help build awareness for the brand. It launched in two test markets, San Diego and Denver. The "Shoes that Move You" campaign, which launched on Monday, is built on the insight that people buy into the feeling shoes give them, with creative taking an emotional and nostalgic bent, associating positive childhood memories (like the endless possibilities from a cardboard box, or the happiness over getting the biggest piece of cake) with the feeling people get when opening a shoe box.

The brand will track sales, new customers, brand engagement and awareness in the two test markets, Lamey says, which will provide a gauge for how well the campaign might perform in the rest of the States and Canada.

This test-and-learn approach – from both the Canadian and U.S. executions – offers a bit of insight into how the brand markets itself. Lamey says listening to customer feedback is baked into Nordstrom's DNA, and that being an agile marketing department is a key tenant of its brand philosophy.

Though it's a large, somewhat decentralized marketing team, Lamey says the marketing department is built in a way that allows for flexibility. Staff members are broken down along departments – kids, womens, mens, etc. – with secondary teams dedicated to brand marketing and online. Each store has its own event, social and PR teams, as well as visual merchandising roles, responsible for creating more customized messaging in each market. This allows the brand the ability to respond on multiple fronts as the business needs warrant it.

What's more, the brand eschews AORs for project-based work with agencies, she says, in order to maintain agility and flexibility with its marketing mix.