B!G Gold: Taxi and Canadian Tire show off true north strength
Nothing says Canadiana like a truck made out of pure ice.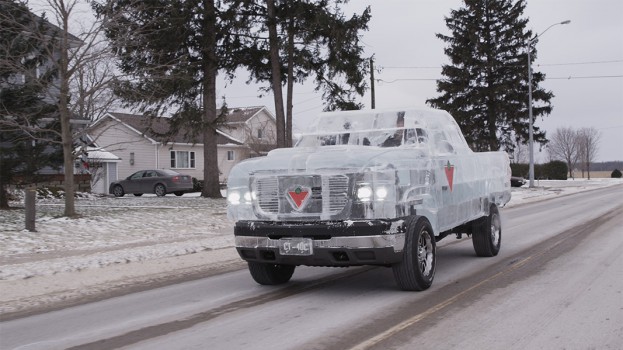 This story appears in the November 2014 issue of strategy.

The challenge and insight

When prepping cars for winter, consumers typically install winter tires and sometimes have their washer fluid and engine checked. This prep work rarely includes replacing the battery, because to most people "if the car starts, it works."

Batteries are also sometimes viewed as a grudge purchase, not a preventative one. But this can be problematic, as shifts in temperature during the winter can cause a battery that works at 7°C to fail at –7°C.
For Canadian Tire to grow sales of the MotoMaster Eliminator AGM battery by 10%, the brand needed to convince Canadians to care about the battery in their vehicle.

The B!G idea

Canada's weather is unpredictable and can be harsh. To prove that Canadian Tire's products are made for life in Canada, Taxi put the MotoMaster battery through the ultimate test.

Knowing Canadians need their batteries to work when it matters most (such as for an early morning hockey practice), the agency demonstrated the efficacy of the MotoMaster by creating a dry-ice machine that froze the battery to –40°C. It then used the battery to power a fully functioning, driveable truck made out of 11,000 pounds of ice.

To prove the "Ice Truck" wasn't a hoax, every stage of the process was filmed for a "making of" documentary, which was posted online and promoted via the retailer's social media channels. What's more, the brand took the truck on a 1.6 km drive through the town of Hensall, where it was shown off to a crowd of cheering residents. Finally, it was filmed as it thawed so people could watch online.

The impact

PR impressions totalled more than 80 million, while YouTube views surpassed 3.5 million. The video was seen around the country and world via CTV, CBC, the New York Times, Fox News, CNN, the U.K.'s Daily Mail, as well as some of the top news outlets in Germany and Australia. Even Ripley's Believe It or Not picked it up for one of its radio episodes.

More importantly, the campaign far exceeded the objectives: the brand set a sales record, with a 70% year-over-year increase in MotoMaster Eliminator AGM batteries, lifting sales for the entire Canadian Tire automotive battery category by 24.6% (versus industry growth of 8.24%).