Throwback Thursday: strategy in 2010
For our 25th anniversary, we're travelling through time. In '10, print tried a reinvention and adland bid farewell to a design legend.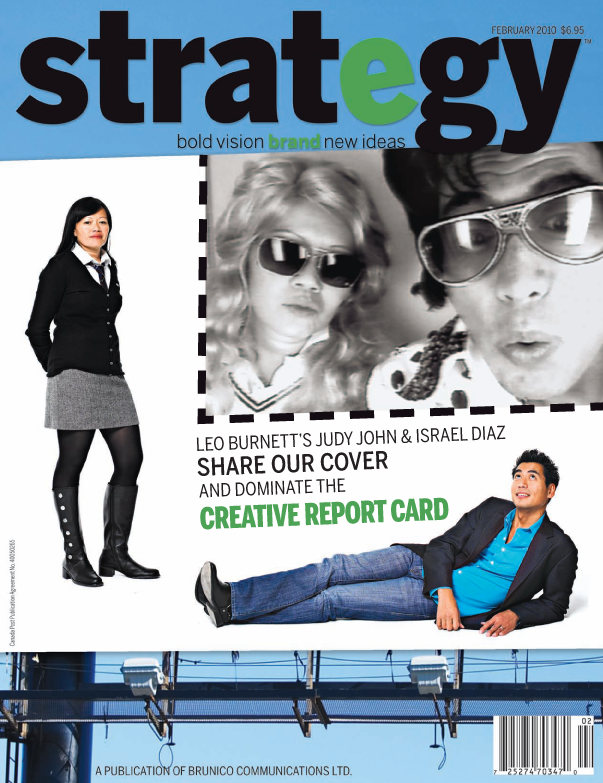 For strategy's 25th anniversary, we're travelling back in time, flipping through the pages of old issues to highlight some big news you may have forgotten, trends you wish you'd had a crystal ball to predict and marketing issues that never seem to change. Check back next Thursday to pick up some valuable insights into Canadian marketing history. This week, we tackle 2010.
Print seeks a new identity
Hot off the press, Oct. 2010
If print had died, then Canada's national newspapers were making a case for the afterlife, we wrote, highlighting the Globe and Mail's magazine-like redesign and a new digital vision for the National Post. 

"Founded in the mid-1800s, today's Globe and Mail still has daily news reportage and an ink-on-paper format in common with its 19th century self. But the paper that appears on readers' doorsteps this month is a much different product than the Globe has ever put forth."
The New Magazines, Sept. 2010
Publications were hitting the social circuit, and reinventing themselves online and off to reconnect with readers and spice things up for advertisers, in an effort to carve out a role for the future of print.
"Magazines are no longer limited to two-dimensional print – at least the ones that have a future aren't. They hold trade shows, tweet to their online readers and produce video content that still manages to convey the brand's core mandate," we wrote.
Trends gaining steam
Personal care brands were just starting to set their sights on the male demographic. (Hint, it's still a hot demo.)
Real men. Real beauty, Feb. 2010
"As you're reading this, Unilever's Dove Men+Care line will be arriving on shelves. The North American debut of the men-only line of soaps, body and face washes and a baseball-shaped loofah-style 'shower tool' had been rumoured since the line was piloted in Italy last fall.
"While Unilever Canada couldn't confirm all the details of the domestic media buy at press time, the official campaign launch in the U.S. and Canada is set for Super Bowl Sunday (natch). A black-and-white spot by Ogilvy London on Dovemencare.com already reaches out to men who have outgrown Axe, asking, 'You've reached a stage where you're comfortable with who you are. Shouldn't your skin be just as comfortable?'
Grooming wars: after the shave, April 2010
"It started in January with Dove Men+Care promoting 'shower tools' to men who feel comfortable in their own skin, via messaging aimed at guys, but definitely also women-friendly. Skewing younger and with a more 'bro' voice, last month brother brand Axe added a two-in-one shampoo and conditioner and a styling pomade to its year-old hair care line.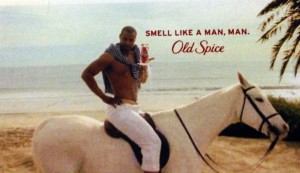 "Over at P&G, with tongue also firmly in cheek, Old Spice's new 'Smell like a man, man' platform for its body washes spawned a commercial that's become an internet sensation since launching in the U.S. in February."
The Path to Transmedia, March 2010
Another hot trend of '10 was brands' early foray into the transmedia zone.
"Coined by MIT professor Henry Jenkins in his 2006 book Convergence Culture, the term 'transmedia storytelling' involves an evolving narrative told across multiple media platforms, playing to each channel's strength, and each one contributing to create a story world larger than the sum of its parts.
"The concept has long been embraced by the entertainment world, in which a story – man grows up to avenge parent's murder, for instance – takes on a life of its own as it is elaborated and extended via film, videogames, animations and comic books. Recently, brands have started to experiment with developing their own story worlds and narratives across various media touchpoints."
Get a little closer (don't be shy) April 2010
"From live Facebook chats with a rock star to beating Tony Hawk at his own videogame, entertainment brands are using digital tools like social media to engage youth – of all ages – in first-person interactions with the celebrities they adore."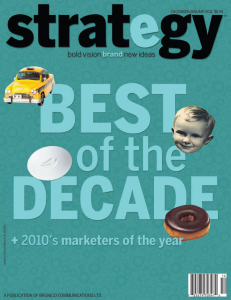 In memory of
In our year-end issue, we took a look back on the Best of the Decade, highlighting Hugh Dow as Media Person of the Decade, Taxi, Tim Horton's  and Dove.
No Name Necessary, March 2010
We paid tribute to Canadian designer Don Watt, who had passed away Dec. 23, 2009, with a feature using the famous yellow-and-black scheme of Loblaws' No Name brand, a design he created.
Creative Report Card
Want more strategy Throwback? Catch up on the headlines from 1989, 1990, 1991, 1992, 1993, 1994, 1995, 1996, 1997, 1998, 1999, 2000, 2001, 2002, 2003, 2004, 2005, 2006, 2007,  2008 and 2009.