Fetching consumers with Petcurean
The specialty pet food line is hoping to take on the big brands and grocery stores by equating furry friends to kids.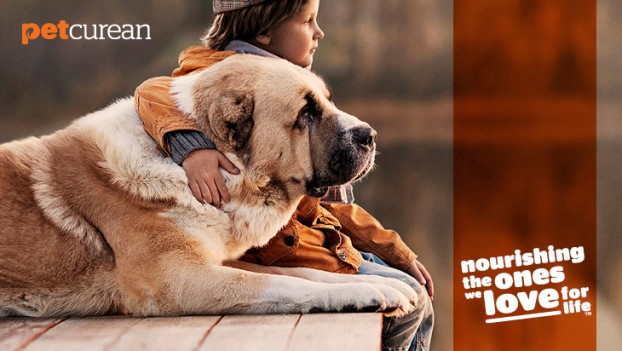 In a bid to expand its consumer base in Canada and the U.S., Petcurean is tapping into the insight that we tend to treat our furry friends like members of the family. The premium pet food company hopes to convince owners that spending a little more and going out your way to find that quality food is worth it for the health of their pets.
The campaign is built around the tagline "nourishing the ones we love, for life" and enforces the idea that, as members of your family, pets deserve to have the same thought put towards the health value of the food they eat as anyone else. Putting pets next to kids, the creative emphasizes things like "love," "play" and "teach" and will be seen in POS materials in stores and online banner ads.
The buy for the campaign began this fall and will run until the summer, with creative refreshes and boosts planned around new product releases. Petcurean worked with Subplot on the campaign and Vancouver digital agency 6S is handling the media buy.
"Most pet owners would go as far as to literally equate their children and pets, and there is a close parallel in terms of protecting, nurturing and providing the best food possible," says Matthew Clark, principal and CD at Subplot Design. "And for many people their pets are their only babies. What we wanted to do is still have pets at the fore, but to bring this emotional family bond out in a more powerful way, almost as if the viewer is the 'parent' of both."
"The trend is that parents are being more mindful of the health of the food for kids, and that's translating to the pet industry," says Jaimie Turkington, director of marketing at Petcurean.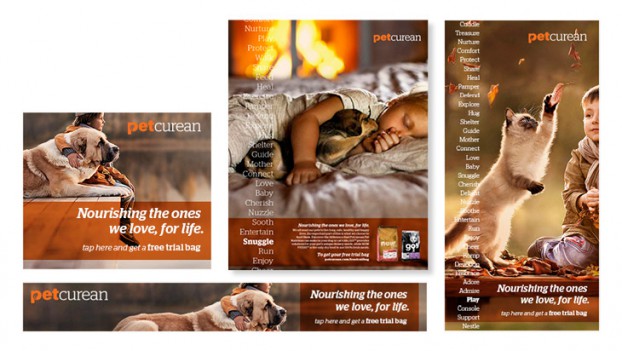 The new campaign is only the second consumer-facing campaign Petcurean has done.

Turkington says only 15% of pet owners shop in pet specialty stores, meaning that the other 85% are not even entering the channel where the Petcurean product is available. Those owners are shopping instead in grocery and big-box spaces that are stocked with brands that have more experience and funding behind them than Petcurean.

"We're fighting against massive companies with humongous marketing investments," Turkington says. "We have very limited resources given the geography we are trying to cover, so we are trying to be very effective with what we have."

With that in mind, the goal behind this campaign is to build brand awareness not so much to make it stand out on store shelves, but to get consumers into the channels where Petcurean is available in the first place.

"It's a niche product available in a niche channel," Turkington says. "We need to educate more consumers so they come into the channel and shop at pet speciality stores, because it's in the best interest of their pet."